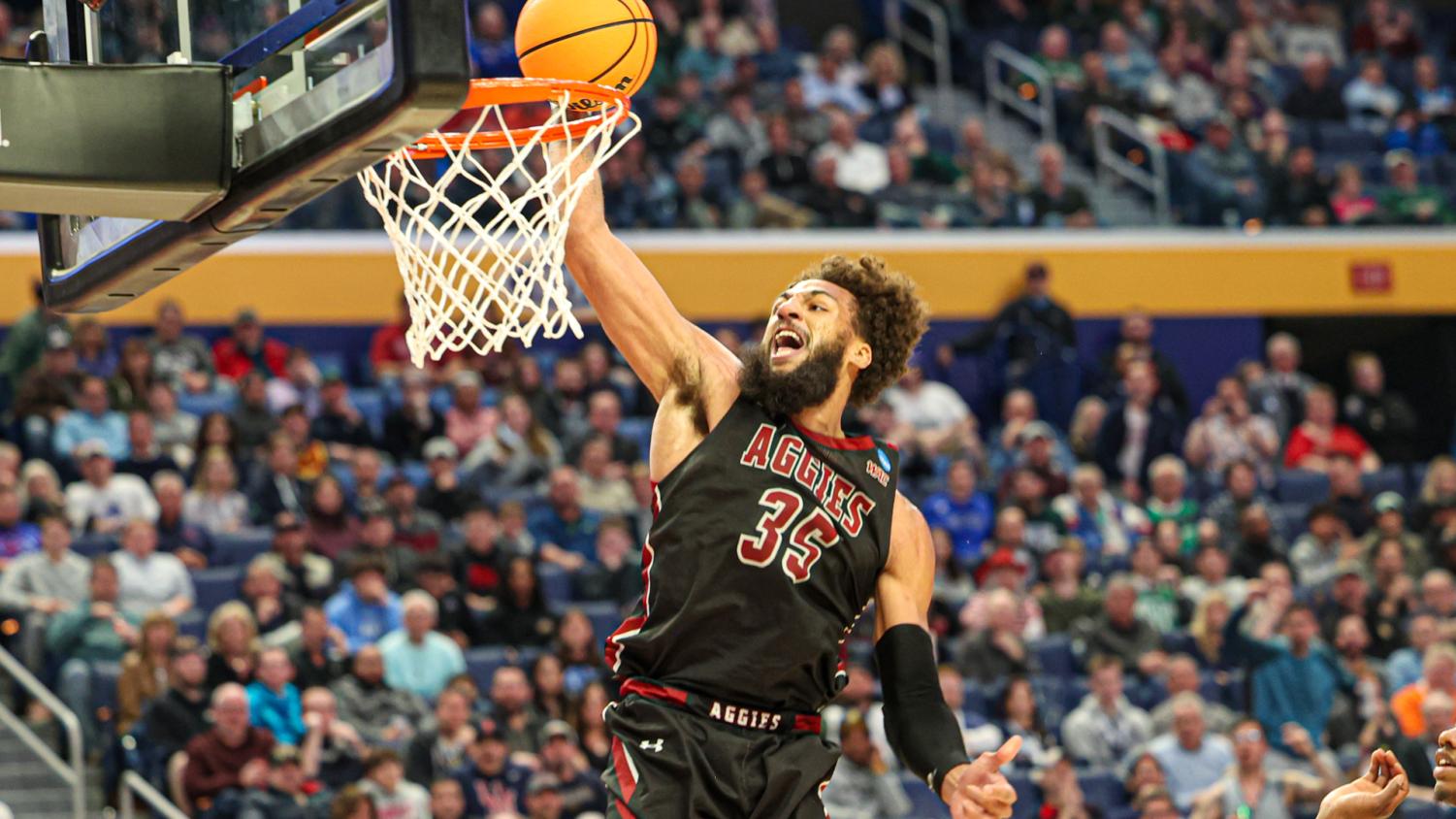 Aggies narrowly miss Sweet Sixteen in terrible 53-48 loss to Arkansas
On Saturday night, New Mexico State's basketball campaign ended in a random battle with the Arkansas Razorbacks. The devastating loss was felt by Aggies nationwide as hopes of a Sweet Sixteen spot have not materialized since 1992.
The first frame proved difficult to watch, with extremely messy play and with the two teams combined to pass just 15 of 52 (.288) from the field in the first 20 minutes of action. A lackluster offensive performance by the Aggies gave Arkansas the lead with players like JD Notae contributing 10 points on a 15-2 run giving them a 26-17 lead at the break.
Hometown hero Johnny McCants ended his career in an elite and commendable fashion, with every fan seeing his true heart for this team throughout the game. His all-around brilliance was on display as he finished with 16 points, 12 double-double rebounds to go along with two blocked shots, a pair of assists and two steals. Highlighting their fight and making the game far from over, McCants and McNair Jr. scored all but two of the Aggies' points with a 16-6 surge in the second, giving NM State its final lead. of the game (33-32).
Working from a nine-point deficit, a silver lining was provided shortly after Rice drained a three-in-two (48-46) with 11 seconds to go, keeping Aggie fans on their toes. edge of their seats. Unfortunately, the free throw line proved to be deadly, with the Razorbacks trailing away from the line at 22 of 25 (88%). After the final buzzer sounded, Arkansas was +15 in free throw attempts (25-10) and +16 in free throws made (22-6), which ultimately determined the outcome of the game. heartbreaking.
Although the turn of events was heartbreaking, these Aggie seniors left it all on the field and gave Arkansas a battle until the dying seconds. NM State compiled a 27-7 mark that included a 14-4 mark in Western Athletic Conference (WAC) action to end the year. Great contributions from young players like Will McNair and Mario McKinney Jr. provide a glimpse into the future of the program and the continued potential of this Aggie team.