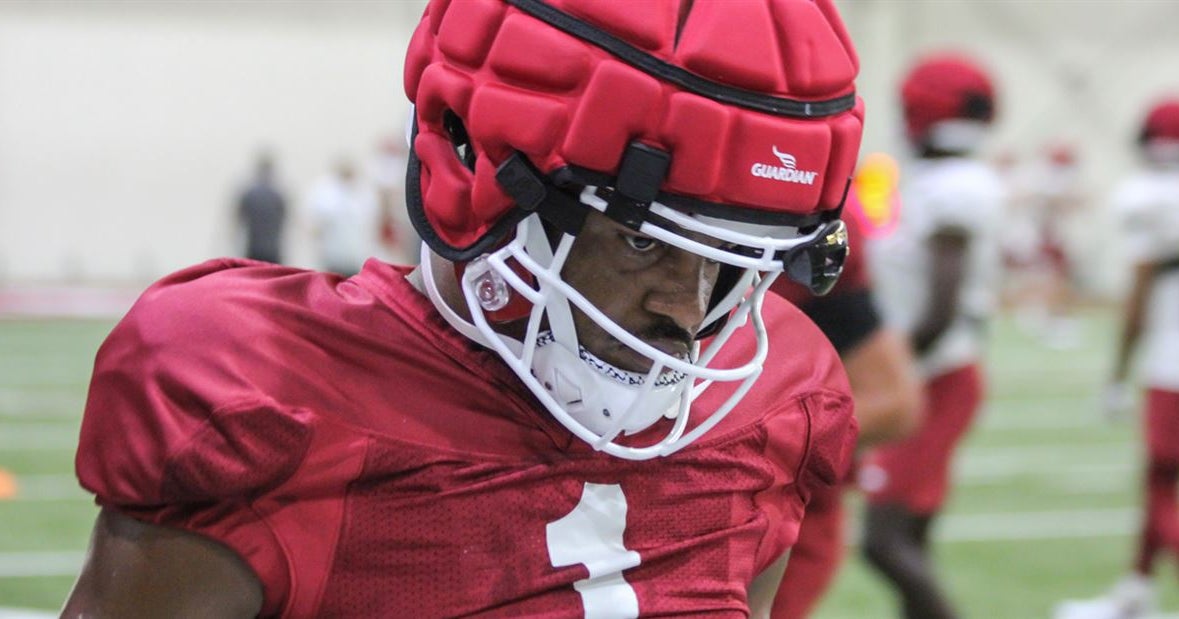 Arkansas Fall Camp Notes and Observations: Day 11
As I drove by the stadium, it looked like they were removing the Walmart logo and the Razorback logo from the corners of the south end area above the second upper deck. It might be due to a refresh since they've been around since 2018, but it could be something else entirely.
There was steady rain and 69 degrees outside for the 8:30 a.m. practice, so the team worked inside the Willard & Pat Walker lodge. They were spider, meaning there were no shoulder pads or leg pads, just the soft padding that goes under the shoulder pads and their helmets. Old Razorbacks thomas robert and Al Heringer were present for Wednesday's practice. Thomas brought two sons with him.
Backup Center Marcus Henderson was the only player still in a green jersey without contact. Backup left tackle Devon Manuel was still out as he recovers from a minor injury.
Quarterbacks, wide receivers, and defensive backs did some ball striping/protection work early in practice, and after that, defensive backs worked on extending and deflecting passes.
The broads were doing a drill where they ran five yards up, five yards out, five yards up, and then crossed the middle. Wide Receiver Coach Kenny Guiton then threw the pass. After the first time, Guiton made them repeat the exercise because there were too many falls. The second time there were three drops. Last time there was only one drop.
FRESHMEN WIDEOUTS
I spent a lot of time watching wide receivers, and what stood out to me today was how good looking these three freshmen look. Isaiah Sategna is just super quick in and out of his breaks. He might be the quickest on the team in that regard. Quincey McAdoo really looks the part like a long, lanky guy, and then Samuel Mbaké is also tall and long but more muscular. He's more in the mold of Ketron Jackson.
Mbake really attacks the grass coming out of his breaks but is also a pretty smooth road runner at the same time. With his arrival this summer and his trip from Georgia, he probably isn't making as many headlines as some other players, but he seems to have a very promising future. It also seems to be very consistent over the time I've watched it. Even Sategna had a dropped pass in practice early in training, and McAdoo had that last drop in practice, but I don't think I've seen Mbake drop a pass in practice yet.
FASTBALL ORDER
Most practices, Arkansas holds a "fastball" period where they let the first, second, and third teams play each other for about four games each. It's not a true gauge of depth, as players are often forced to get different looks or see how the team might perform with a missing player. Here is the order in which they took the field…
The starting linebackers were Drew Sander and Christopher-Paul. They were in a four-way front with Jashaud Stewart at the left end and Zach Williams to the right. Eric Gregory was the left defensive tackle, and Isaiah Nichols was the right DT. Bishop of LaDarrius was at the right corner, and Hudson Clark was in the left corner. Everything else was as expected with Simeon Blair and Jalen Catalonia to safety and Myles Slusher nickel. Bumper pool was in good health, he simply did not participate in this practice segment.
The starting offensive line was the same as it always was, from left to right with Luke Jones, Brady Latham, Ricky Stromberg, Fine Limmer and Dalton Wagner. KJ Jefferson was still the first quarterback, and Raheim Sander was the running back with Trey Knox tight end. The starting spreaders on Wednesday were Warren Thompson, Bryce Stephens and Ketron Jackson. Matt Landers and Jadon Haselwood were in good health but did not participate in this period.
The second team WRs were Quincey McAdoo, Isaiah Sategna (SL) and Jaedon Wilson and with Nathan Bax at TE. AJ Green was the RB with Malik Hornby at QB. Andrew Chamblee was the LT with everything else as expected… Jalen Saint-Jean at LG, Josh Street to CO, E'Marion Harris at RG and Ty'Kieast Crawford art.
Jayden Johnson and Latavious Brini were the team's second safeties with Trent Gordon in N.B. landon jackson was the LE, and Jordan Domineck was here. Terry Hampton was the LDT, and Cameron ball was the RTD. Khari Johnson was at the LCB with Malik Chavis at the RCB. Jordan Crook and Jackson Woodard were the LBs. Brini intercepted Hornsby 15 yards down the field in a fastball job.
In the third group, Dwight McGlothern was at the RCB, Keuan Parker was at the LCB. Anthony Brown and Zach Zimos were the safeties with Jacorrei Turner in N.B. Mani Powell and Kaden Henley were at LB. Eric Thomas Jr. was at RE with Dorian Gerald at LE. Nicolas Davillier was at RDT with taylor lewis to LDT.
The team's third offense had Cade Fortin at QB with Rashod Dubinion to RB Tyrus Washington was the TE. Jaquayln Crawford, Landon Rogers and Samuel Mbaké were the wide receivers. Cole Carson was on RT with Terry Wells to LT. Eli Henderson was the third OC with Patrick Kuta at RG and Brooks Edmonson at LG.
Arkansas Special Teams Coach Fountain Scottkicker Cameron Small and bettor Reid Bauer will speak to the media after training.