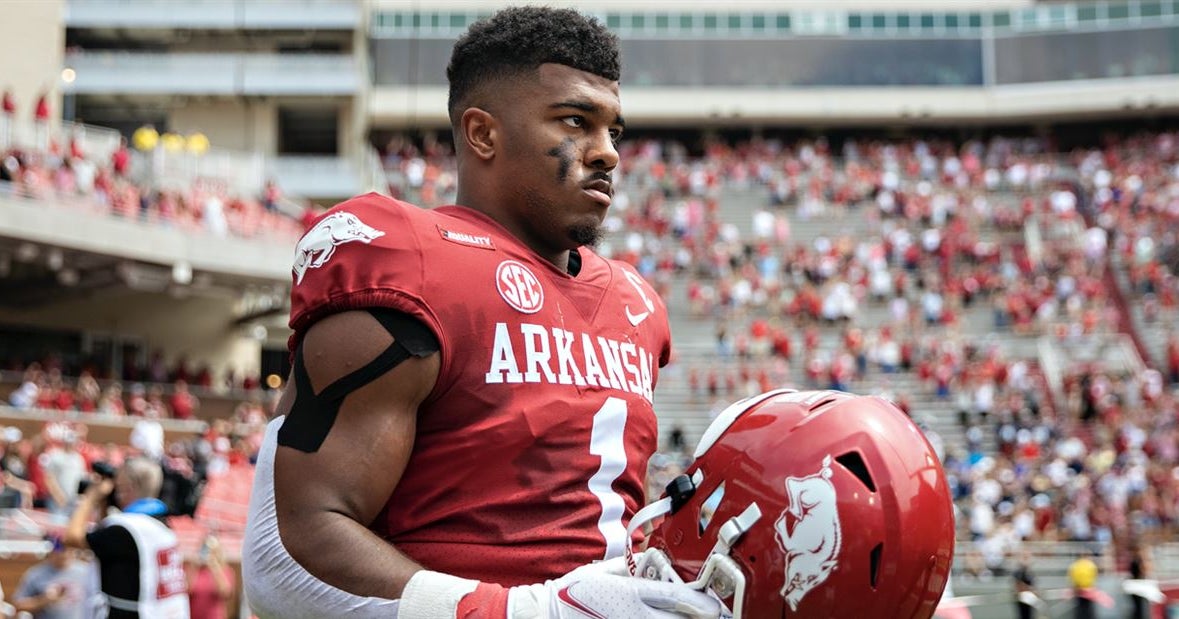 Arkansas players react after being named team captains
Arkansas announced its four team captains on Tuesday as the team prepares to open the season against No. 23 Cincinnati on Saturday from Donald W. Reynolds Razorback Stadium. Junior Quarterback KJ Jefferson and junior security Jalen Catalonia were voted captains for the second straight season, while super senior linebacker Bumper pool and super senior right tackle Dalton Wagner were recognized for the first time.
Last season, Jefferson completed 198 of 294 pass attempts (67.3%) for 2,676 yards, 21 touchdowns and just four interceptions. He also led the team on the ground with 146 carries for 664 yards (4.5 yards per carry) and six other scores.
"It's a really big deal here at the University of Arkansas," Jefferson said. "Earning the trust of my teammates and the trust of my teammates to vote me captain and become captain for the second time here at the University of Arkansas is a very big deal. I'm proud of that. I don't take it I just thank those guys, my teammates.
Catalon entered last season with a shoulder injury, then broke his hand and played just six games. He was a 2020 (AP) first-team All-SEC selection and was a preseason second-team All-American selection prior to last year. Phil Steele named him a first-team preseason All-American heading into 2022.
"It's a blessing, for sure, to know that my teammates think of me that way, as captain it's an honour," Catalon said. "There are a lot of guys who could have been made captain, but to be chosen as such is definitely an honor that I will remember for the rest of my life. Like I said, now that we understand the captain's situation outside, now it's time to play football."
Pool led the Hogs in tackles a year ago with 125, despite starting just one game. For his career, the super senior is just 60 saves away from breaking Tony Bua's all-time mark of 408. Pool was second team All-SEC by coaches in 2020 and second team All-SEC by coaches and the media in 2021. He has 26 career starts.
"It means a lot to have Bumper," Catalon said. "I've said it so many times and I'm going to stick to it, have him in the linebacker room and have him run things in that room and run things on the field to the box, it's not okay. no better knowing you have someone you can trust and they're going to do their homework and bring that juice and leadership every day better than that and I'm glad they're back for a year more with us. Like I said, I'm excited to play with him again, with my other brothers.
Wagner is one of four returning starters on the offensive line. At 6-foot-9, 331 pounds, he started 28 career games with the Razorbacks and opted to return for his sixth season with the team.
"He's been here a while now, so he's seen a lot. He's been through a lot," Jefferson said. "Just being able to reach out to him when you're going through adversity or facing tough odds. Even off the pitch, Dalton is a guy you can always call on and he'll always come to help you every time. that you're going to need help. So just being able to have a guy like Dalton on our team that we can reach out to him on and off the pitch and just being able to be the real guy that he is ."