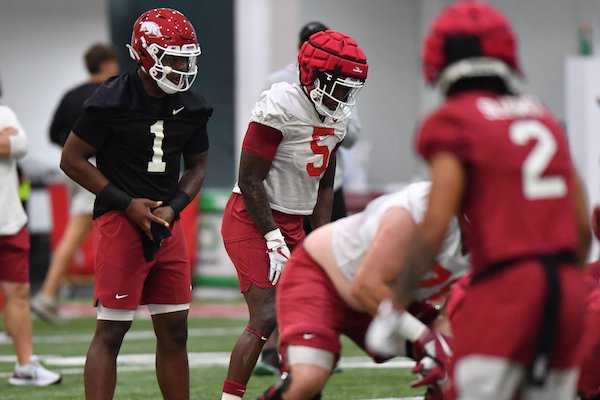 Arkansas Preseason Football Camp Day 1 Notes and Observations
FAYETTEVILLE — The Arkansas football team held their first training camp practice on Friday. Here are some notes and observations from the first 20 minutes of training:
• Players wearing green non-contact jerseys: offensive lineman Marcus Henderson and defensive back Jacorrei Turner. Sam Pittman said Wednesday that Turner will start camp on the green top after suffering a shoulder injury this offseason. The reason Henderson is in green is unknown at this time.
• Wide receiver Jaquayln Crawford, a transfer from Oklahoma, was on the field and seemed to be going strong after an injury this spring. It was announced in the spring that Crawford had broken his leg during spring break and that a rod had been inserted as a result. Crawford can bring another element of speed to the Razorbacks' receiving group when healthy.
VIDEO: Images and sounds of the Razorbacks' first pre-season training
• I came out of the first 20 minutes of practice impressed with the appearance of tight end Trey Knox. He carries the added weight well since the end of last season and he looks barrel-chested. Knox reported that he weighed 240 pounds after spring training and planned to add more. He looked slick on the tight end and was the undisputed leader of the group.
• Another tight end that came to my mind in a short time was freshman Ty Washington. He is already looking the part and doing well. Catching passes on a sideline from tight ends coach Dowell Loggains, he made a nice one-handed catch and then fluidly caught a ball over the shoulder in the corner of the end zone.
• From what I could glean from the position group drills, the first two groups on the offensive line (L -> R):
1 – Luke Jones, Brady Latham, Ricky Stromberg, Beaux Limmer, Dalton Wagner
2 – Devon Manuel, Jalen St. John, Josh Street, E'Marion Harris, Ty'Kieast Crawford
There were no real surprises with the first group on the attacking side. The top three receivers were Jadon Haselwood, Ketron Jackson and Warren Thompson. Knox was on tight end and Rocket Sanders on running back.
The second team was led by quarterback Malik Hornsby, then AJ Green at tailback, and Matt Landers, Jaedon Wilson and Bryce Stephens. The six receivers listed on the top two teams are all those Pittman listed at SEC Media Days last month as the group leaders. Nathan Bax was No. 2 at tight end.
More from WholeHogSports: Full coverage from day one of pre-season training
The biggest play in the team segment was from Wilson, who caught a deep ball from Hornsby about 35-40 yards down the field, beating second team corner LaDarrius Bishop.
• Here's how the top three defenses lined up:
first team
FROM: Jashaud Stewart
DT: Isaiah Nichols (wearing #33)
TD: Eric Gregory
FROM: Zach Williams
GM: Drew Sanders/Chris Paul
LB: Buffer pool
CD: Hudson Clark
DC: Malik Chavis
S: Simeon Blair
S: Jalen Catalonia
Nickel: Myles Slusher
Second team
FROM: Landon Jackson
TD: Terry Hampton
DT: Cameron Ball
FROM: Eric Thomas
LB: Jackson Woodard
GM: Jordan Crook
CB: LaDarrius Bishop (wearing #11)
DC: Dwight McGlothern
S: Jayden Johnson
S: Latavious Brini
Nickel: Trent Gordon
Third team
FROM: Dorian Gerald (wearing no. 23)
TD: Marcus Miller
TD: Taylor Lewis
FROM: Jordan Domineck
GM: Kaden Henley
LB: Mani Powell
DC: Keuan Parker
CD: Khari Johnson
S: Anthony Brown
S: Zach Zimos
Nickel: Jaylen Lewis