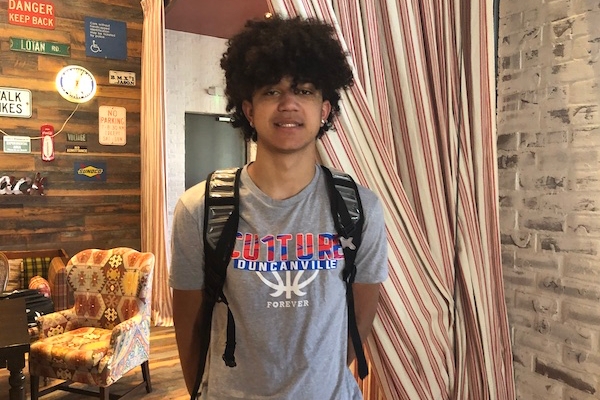 Arkansas targets Black to announce next week
Posted: Tuesday March 22nd 2022
Arkansas' basketball program will find out Monday if it will land a third 5-star McDonald's All-American and a sixth top 100 prospect for its 2022 recruiting class.
Duncanville, Texas, guard Anthony Black (6-foot-7, 198 pounds) announced via Twitter video on Tuesday that he will be committing a day before playing in Chicago's prestigious McDonald's event.
Black is the highest-rated prospect in the game who isn't committed to a school and will choose between Arkansas, Gonzaga, TCU, Oklahoma State and the G-league.
The 24 participants in the McDonald's game have eight-minute virtual interviews with members of the media on Monday. Black's is set for 4 p.m.
"It's the commitment date," Duncanville coach Dean Peavy sent Tuesday. "I don't know exactly how they do it."
The McDonald's game on Tuesday will be played at 8:30 p.m. and will be televised by ESPN.
5-Star Razorback signers Nick Smith Jr. (6-5, 185) and Jordan Walsh (6-7, 200) join Team Black on the West, along with North Little Rock center and Oregon signee Kel'el Ware.
Smith and Walsh both did their part in recruiting Black.
"Me and Jordan spoke to him during his recruiting process," Smith said in a previous interview. "We didn't want to put any pressure on him, but we just said to him, 'Hey man, if you come here, we're going to win a lot of games.
"We didn't lie to him. We told him what was going on, telling him the situation. Me and AB were brothers before all that and we were recruited by Arkansas. He asked me a lot of questions and I just kept it with him.
"Whatever decision he makes we will always be brothers and I'm sure it's the same with him and Jordan. I'm sure AB will make the best decision for him but if he comes here , we'll all get to work right away.
Walsh and Black are both originally from Texas.
"I'm working on him," Walsh said. "He's my guy and he's from Texas like me. I'm trying to get him here with me. I'm just telling him all the real things about it, how is life in Arkansas as far as I know .
"I told him coach (Eric) Musselman is a winner and he's going to make you work hard."
Despite missing portions of the season due to eligibility issues raised by the Texas University Interscholastic League, Black helped lead his team to a Class 6A state championship while scoring 17 points and being named MVP.
Arkansas' 2022 class, ranked third nationally by ESPN, 247Sports and Rivals, also includes Magnolia guard Darrien Ford (6-5, 205), Morrilton small forward Joseph Pinion (6-6, 180) and Mobile (Ala.) McGill-Toolen forward Barry Dunning Jr. (6-6, 210).