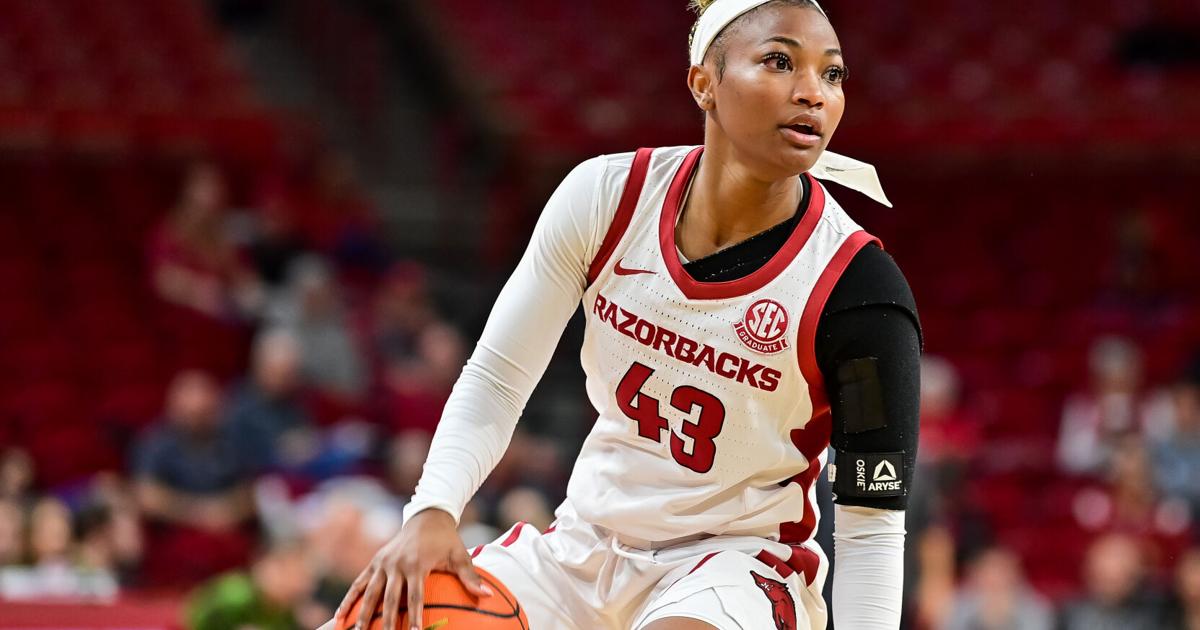 Arkansas women's basketball beats Tulsa to go undefeated | Sports
Arkansas Women's Basketball beat the Tulsa Golden Hurricane 79-70 in a season-opening non-conference battle of undefeated teams on Monday night.
The first half was largely dominated by shots from beyond the arc. Senior guard Makayla Daniels gave Arkansas a quick start with a 15-5 lead as Tulsa struggled to find their range early, missing 10 of their first 12 shots.
Tulsa was no slouch. Hurricane whipped the ball across the floor, constantly finding the shooter open. Three points from Maddie Bittle, Delanie Crawford and Temira Poindexter cut the Hogs' lead to 24-18.
Daniels had a hot hand early, canning all four of his 3 attempts in the first half. Senior forward Erynn Barnum converted on a layup in transition as part of his career-high 27 points to cut Arkansas' lead to 37-25.
Arkansas head coach Mike Neighbors knew Barnum's veteran presence would play a big role in the Hogs' victory, he said.
"I felt like through the movie there was a match advantage there," Neighbors said. "She understands, she knows when her number is called and she knows when she can dominate. Really proud of her.
In a recurring pattern, Tulsa refused to back down and cut Arkansas' lead before intermission. Thanks to a triple crit from Bittle Tulsa cut the lead to 41-34 when the teams went to the locker room. Tulsa shot an impressive 6-14 from behind the 3-point line but, perhaps a rarity, just 2-8 from the free-throw line in the first half.
The 15-minute break did nothing to cool Tulsa's searing shooting streak. Tulsa fired all the guns on all cylinders and added four more long balls to take its first game-leading lead since 2-0 at 46-45. As Tulsa led the hot streak, Arkansas went cold, scoring just four runs in the first five minutes of the third period.
Tulsa finally cooled down around the same time Arkansas started to warm up. Back-to-back triples from first-year forward Maryam Dauda and second-year guard Samara Spencer gave the Hogs a 51-46 lead. The Hurricane missed its last three shots from the field in the period to go along with four of its 17 turnovers on the night to give Arkansas a 54-48 lead.
Arkansas had to ride out another wave of Golden Hurricanes to win the game in the final stanza. Three layups, two by Poindexter and one by forward Katelyn Levings once again cut Arkansas' lead to 58-56.
Perhaps fittingly, Barnum, on his career night, broke the offensive glass on a missed triple to give the Hogs a critical field goal and cut the lead back to four. Barnum also had another critical layup to extend the lead to six at 66-60 with 4:54 remaining in the game.
Arkansas had been looking for a punch to break Tulsa's spirit for about 20 minutes and never quite got one. He finally came with 2:59 to go, thanks to a steal from freshman guard Saylor Poffenberger. She found junior guard Rylee Langerman all alone in the corner for a triple that put Arkansas ahead 72-63 and sent away a happy crowd of 2,511.
Barnum personally credits her teammates and team culture for such a successful start to the season.
"The trust that my teammates and my coach have in me plays a big role," Barnum said. "When I look up and see Saylor in the air grabbing (bouncing), I'm like, 'Yeah'. It takes a lot of the pressure off me.
Neighbors know there is still a lot to figure out as the young season continues to move forward, he said.
"We have a lot of usable films and we understand better who we are," Neighbors said. "We wanted to be challenged. We have things to settle.
Arkansas will continue the homestand against Kent State at 7 p.m. Thursday. The game will be broadcast live on SEC Network+.