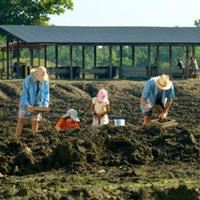 Crater of Diamonds Celebrates 50 Years as an Arkansas State Park | Magnolia Area Attractions
Visitors to Arkansas' Crater of Diamonds State Park are invited to celebrate the park's golden anniversary on Friday and Saturday.
Friday at 4 p.m., Retired Parks and Tourism Executive Director Richard Davies and Retired Park Superintendent Jim Cannon will speak about the early days of the park.
Immediately after, the park will unveil a new exhibit on the 8.52-carat Esperanza Diamond, discovered at the park in June 2015. Participants may bring chairs or blankets to sit on during these activities.
On Saturday, the park will host its 26th annual Prospector's Scavenger Hunt for painted bottles and rocks hidden in the diamond search area, redeemable for a variety of prizes from area businesses. Park staff will also organize fun games during the day for visitors of all ages.
From 10 a.m. to 2 p.m. on Saturday, park visitors can meet Crater Diamond diggers and view dozens of magnificent diamonds at the 14th Annual Crater Famous Diamonds Exhibit in the Diamond Discovery Center classroom. The following exhibitors and collections at this year's event:
The Houran Diamond Collection – Private Collection
The Esperanza Diamond – Presented by Loyd Stanley, retired jeweler and owner of Stanley Jewelers Gemologist, North Little Rock
Dawn Barnes – Daughter of longtime park visitors and diamond diggers Donald and Mollie Mayes, Springdale
Sam Jones – Crater regular diamond digger, Fayetteville
Kevin Kinard – Discoverer of the 9.04 carat Kinard Friendship Diamond, Maumelle
Scott Kreykes – Diamond Finder Regular Crater, Dierks
Kenny and Melissa Oliver – Discoverers of many Crater Diamonds including the 2.44 carat Silver Moon Diamond in March 2011, Rosston
Jason Rigdon – Regular park visitor and diamond seeker Crater, Freeburg, IL
Troy Savage – Regular Park Visitor and Diamond Seeker Crater, Antlers, OK
Louella Terrell – Crater Diamond Collector, Murfreesboro
All event activities are free with the purchase of an entry to the Diamond Hunt ($10 for ages 13 and up; $6 for ages 6-12; ages 5 and under are free ).
For more information, contact Crater of Diamonds State Park at 870-285-3113 or email [email protected]
Diamonds come in all colors of the rainbow. The three most common colors found at Crater of Diamonds State Park are white, brown, and yellow, in that order.
A total of more than 75,000 diamonds have been unearthed at Diamond Crater since the first diamonds were discovered in 1906 by John Huddleston, a farmer who owned the land long before it became an Arkansas state park in 1972.
The largest diamond ever discovered in the United States was unearthed here in 1924 during a first mining operation. Baptized Uncle Sam, this predominantly pink white diamond weighed 40.23 carats. It was then cut into a 12.42 carat emerald shape and purchased by a private collector for $150,000 in 1971.