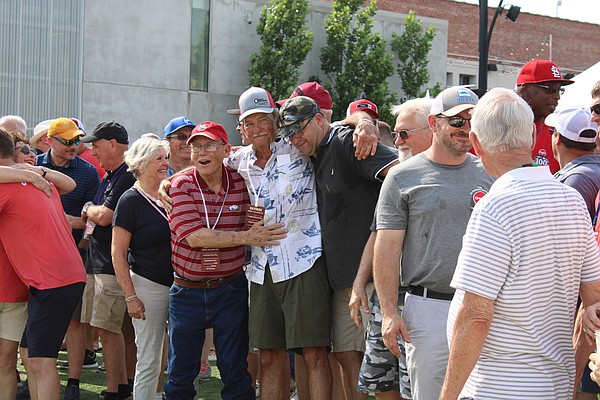 Delek celebrates the refinery's 100th anniversary
Current and former workers at the El Dorado refinery celebrated 100 years of industry in the city at a centennial party hosted by Delek on Saturday at the Murphy Arts District.
According to the Encyclopedia of Arkansas, a small refinery in town was purchased by Colonel Thomas Barton in 1922 when it originally became the Lion Oil and Refining Company.
One hundred years later, the company's impact on the city is hard to overestimate.
During Saturday's celebration, retired Lion Oil workers, current Delek employees, their families and special guests gathered at the Murphy Arts District Amphitheater for a funfair, complete with bouncy castles and carnival games , music, food and a memorial lane highlighting the historical significance of the oil industry and Lion Oil's contribution to it.
An hour and a half into the party, Mike Reed, the refinery's plant manager, called workers and retirees to a DJ booth in the middle of the MAD Amp, where he congratulated them on their hard work. who helped keep the industry going to El Dorado and share some of the establishment's history.
Lion Oil merged with Monsanto Chemical Company in 1955, and the company subsequently declined; where it once had more than 2,000 gas stations in the south, by the 1970s parent company Monsanto had closed many of its stores and in 1975 the refinery was sold to Tosco.
Not even a decade later, the refinery was in more jeopardy when now-owned Tosco suffered a downturn, according to the Arkansas Encyclopedia. Local oil producers found a buyer in Ergon Corp in 1985. The new owners saw the refinery's potential, renamed it Lion Oil, and invested in the company to expand its production with environmental considerations in mind. .
In March 2011, Delek US Holdings purchased the refinery.
Reed said it wouldn't have been possible without the help of local and state officials. Arkansas House Speaker Matthew Shepherd highlighted the importance of the oil and gas industry to the local and regional economy, pointing to the Delek Refinery as a major driver of economic activity in the region.
"A lot of times when people think of the innovative companies and the companies that made this country, they want to think of Silicon Valley, but what stands out for me are the companies that have stood the test of time. depression, WWII, of course the ups and downs of the global energy market and the global pandemic, and you all have stood the test of time, and that's something I care about you congratulations," Shepherd said. "Sometimes people want to shoot the oil and gas industry, but I'm proud of what the oil and gas industry and Lion Oil and Delek mean to our community, they mean to the country. and what they mean to the world. . I am grateful for what you do every day. Thank you for all you have done on behalf of the State of Arkansas.
Former President and Arkansas native Bill Clinton also appeared via video to thank refinery workers for their contribution to the national economy.
"Your refinery has been a cornerstone of El Dorado for a century now, and you should all be proud of the role you play in the community," Clinton said. "I know I will always be grateful that I was able to help prevent the refinery from closing in the early 1980s when I was governor, and I'm glad you're still going strong today."
Workers in attendance described their careers at the refinery positively, reflecting on how the safety-conscious industry builds deep bonds between co-workers.
"It was a very, very good experience – there are a lot of good quality people," said Wayne Sewell, who started at Lion Oil in 1997 and retired after 24 years with the company that held him there. promoted from operator on a crew unit to an area manager in the oil movement department. "It's good for the community, good for retirees to see each other, to meet new people… Delek is good for the community."
Presley Hartman, refinery health, safety and environment manager, who started at the refinery last year after leaving San Antonio, said the culture Delek is building at the refinery is focused on the workers.
"I wanted to come back to the refinery side," said Hartman, who previously worked at large corporations in a health and safety role. "We're just trying to keep them safe, keep them engaged… If we do our job properly, safely, everybody's going to get a good product and everybody's going home safe… It's hard work if you're used to receiving medals and awards for doing a good job, you do that job well, and you get to barbecue with your co-workers and their families.
Inside the First Financial Music Hall, Ann Hill could be found examining memorabilia from early Lion Oil, including everything from branded ashtrays and pens to a program for an oil boom play .
"It was a good company to work for, and it was a great idea. It was great to see everyone," said Hill, who spent 20 years in purchasing at Lion Oil.
Delek also took the opportunity Saturday to give back to the community with donations totaling $100,000 to local nonprofits. Donations of $3,000 to $10,000 have been awarded to the Arkansas Single Parent Scholarship Fund, Boy Scouts of America, Boys and Girls Club of El Dorado, Camp Fire USA, Character 1st, Compassionate Friends of South Arkansas, Court Appointed Special Advocates, the Eagle Foundation, El Dorado Service League, Hannah Pregnancy Resource Center, Helping Hands Food Bank, HOPE Landing, Kids 'N' Golf, LifeTouch Hospice, Magdalene House, Main Street EL Dorado, Next Step Recovery, South Arkansas Arts Center, SouthArk Foundation, The CALL, Turning Point, Union County Animal Protection Society, United Way, Wings to Recover, and Young Artist Studio.
Saturday's centenary saw hundreds of current and former refinery workers come together to celebrate the impact the oil and gas industry has had on the region and the path to prosperity it has offered local residents in the course of the last century.
"(Working here) has given me a lot of luxuries for my family, in particular," said Kenneth Clemons, a corrective action management operator who worked at the refinery for 16 years and started out as a low-level worker. "I believe the greatest thing is the knowledge that is passed on from those who are older than you when you arrive."
"I love it because they show the community that we've been happy to be here for 100 years," Clemons continued. "It's great to have the chance to meet the families of my colleagues."