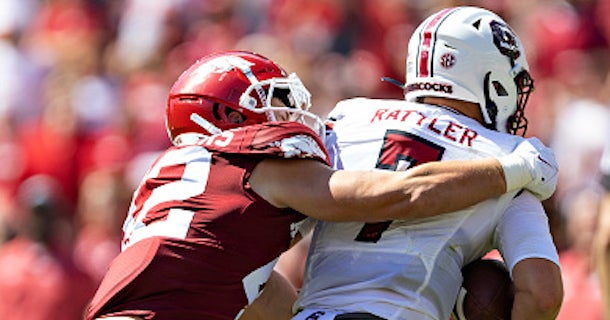 Drew Sanders bursts, KJ Jefferson guides Razorbacks to 44-30 win
Arkansas football stood out in Saturday's 44-30 win over South Carolina as linebacker Drew Sanders and quarterback KJ Jefferson guided the Razorbacks. Of course, other games also intensified in the SEC win, but Jefferson got back on the national stage and Sanders, an Alabama transfer, showed himself by attacking every Gamecock. in sight on the ground. Sanders set the tone early with ferocious punching, incredible speed and a steady chase from South Carolina quarterback Spencer Rattler.
Arkansas never trailed in this contest and it looked like the game would be on cruise control. However, South Carolina cut the lead to 21-16 on a 62-yard touchdown pass from Rattler. But from there, Jefferson and the offense kept rolling as the Razorback defense tightened before the Gamecocks scored a few touchdowns in the foul weather.
Arkansas led 35-16 before the Gamecocks closed the gap, just a little. But overall, it was again the story of Sanders and Jefferson breaking out.
Subscribe to 247Sports YouTube for the latest college football, basketball and recruiting news, including live college commitments.
Here's how the world reacted to Sanders' escape game and Jefferson leading the ship on the attack.