News Center > Entergy Arkansas and Bryant Schools Partner on Energy Efficiency Projects
For immediate release
08/09/2022
Teachers, students and staff at Bryant schools received energy efficiency products.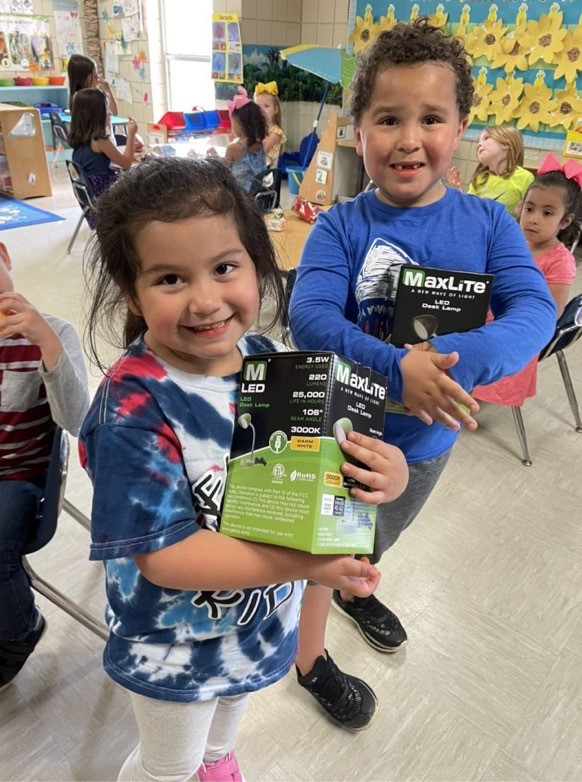 Teachers, students and staff at Bryant schools received energy efficiency products.
Entergy Arkansas recently awarded the Bryant School District $43,328.61 in incentives to support the implementation of energy efficiency projects and operational changes in 2020 and 2021 through its Entergy Solutions program, resulting in annual savings estimated at over $38,000 for the district.
The Entergy Solutions program provides technical and financial support to help Entergy Arkansas customers identify and implement projects that reduce energy consumption. The Bryant School District received support through the CitySmart Program's Continuous Energy Improvement Initiative, which provides support specifically to institutional and public entities.
"The knowledge we gain from the energy experts at Entergy Solutions brings tremendous value to the entire district," said Bryant School District Deputy Superintendent Todd Sellers. "My experience with this program has been great and I look forward to continuing this partnership, so that we can better 'do our part'. Energy conservation is our top priority, but the savings we see are an added benefit our ratepayers deserve and should expect. This program is one of which I take every opportunity to share details with my colleagues. I am very grateful for this partnership.
The CitySmart program helps organizations understand the technical and financial benefits of investing in energy efficiency and develop a plan for improvement. The program does not prescribe technologies or end uses, but rather provides a framework within which participants can receive incentives for implementing and installing a wide range of measures at their sites. CEI focuses on behavioral and operational changes to improve energy efficiency.
As an IEC Participant, Bryant School District is offered personalized, step-by-step guidance, resources, and annual incentives to embed energy efficiency into its culture. Through CEI, the CitySmart team helped the Bryant School District implement four energy-saving projects between 2020 and 2021, including the replacement of two unitary HVAC systems and two heat recovery ventilators. 'energy. These projects have improved the energy efficiency, comfort and air quality of the facilities.
Entergy Solutions' CEI team also helped the Bryant School District recognize and reconcile some simple low-cost, no-cost operational changes to improve energy efficiency during school vacations. These recommendations led to a daily shutdown checklist that included HVAC setbacks, turning off lights, and unplugging unused equipment. The team then recommended that the Bryant School District perform some summer maintenance work, such as waxing the floors, earlier in the school year. Shifting chores to the colder months has helped the Bryant School District reduce the energy load on its air conditioning systems by about 20 percent.
Energy efficiency improvements implemented by the Bryant School District in 2020 and 2021 save approximately 787,000 kWh per year, which is equivalent to removing carbon dioxide emissions from 62,758 gallons of gasoline, according to calculations by the Environmental Protection Agency, and other work will be done. this school year.
Additionally, the Bryant School District hosted a giveaway of energy efficiency products to maintain home energy savings. Over 4,500 teachers, staff and students received a mix of LED desk lamps, advanced power strips and LED bulbs, saving 205.87 kWh annually and approximately $22 per household .
"Congratulations to the Bryant School District for taking advantage of this collaborative opportunity," said Barbara Merrick, customer service manager for Entergy Arkansas. "Because of IEC alone, the Bryant School District has reduced its overall electricity consumption by more than 9 percent. We look forward to future projects with the school district for years to come.
Entergy Arkansas has an award-winning portfolio of energy efficiency programs for residential and commercial customers. To learn more about these programs, visit entergy-arkansas.com/energy_efficiency.
About Entergy Arkansas
Entergy Arkansas provides electricity to approximately 728,000 customers in 63 counties. Entergy Arkansas is a subsidiary of Entergy Corporation (NYSE: ETR), an integrated energy company engaged in the generation, transmission and retail distribution of electricity. Entergy provides electricity to 3 million utility customers in Arkansas, Louisiana, Mississippi and Texas. Entergy owns and operates one of the cleanest utility scale power generation fleets in the United States with approximately 30,000 megawatts of power generation capacity, including 7,000 megawatts of nuclear power. Entergy has annual revenues of $10 billion and approximately 12,500 employees.
These kindergarten students were two of the 4,500 teachers, students and staff to receive a mix of LED desk lamps, advanced power strips and LED bulbs, which can result in annual savings of 205.87 kWh and approximately $22 per household.
Bryant Schools Case Study
---