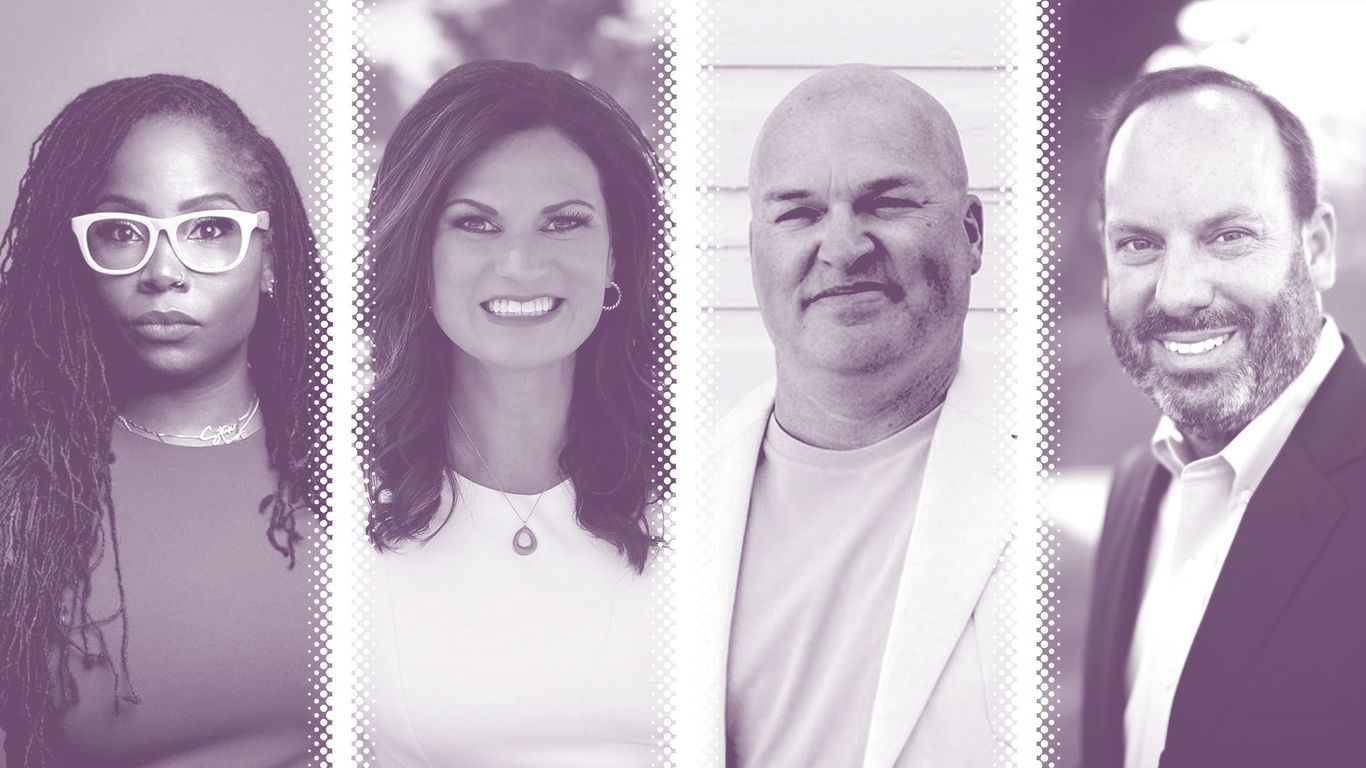 Four candidates vying for Rogers City Council
Photo illustration: Axios visuals. Photos: Boone, Crawford, Weaver and Kendall campaigns
Rogers voters have a choice of who they would like to represent Ward 3, the southwest part of the city.
Details: Holder Clay Kendall faces challenges from Vonnice Boone, Rachel Crawford and Trey Weaver.
Boone is responsible for corporate financial reporting at America's Car-Mart and CEO and President of Vonice Boone Consulting. She serves on the Northwest Arkansas MLK Council, the National Black MBA Association, and the National Association of Black Accountants. She is co-chair of the advisory board for the Office of Diversity and Inclusion at the University of Arkansas.
Crawford is senior director of national accounts at food maker Mars and has served on the Rogers Planning Commission since 2018, where she is the current chair.
Kendall is a managing partner at WealthPath Investment Advisors and has served on the City Council since 2012. He is a former board member of the Rogers Cycling Festival and Youth Strategies and has volunteered as a youth baseball coach and volunteer with the Rogers High School Orchestra.
Weaver is a real estate broker with Cohobnb Properties and a member of the Arkansas Board of Abstractors and the Arkansas Board of Auctioneers. He is past chairman of the Board of Realtors and current president of the Mt. Hebron Historical Graveyard and Church Association and the Historic Liberty Bell Schoolhouse Association. He is co-leader of the Liberty Bell 4H Club.
Be smart: This race will ultimately be decided in a second round unless someone gets more than 50% of the vote. A candidate can also win with 40% if they are still 20% ahead of the candidate who came in second place.
Yes and: All Rogers residents can vote in this race, regardless of where they live in the city. Council members must live in the neighborhoods they represent.
And after: Early voting begins Monday, October 24. Election day is November 8.
Q&A: Meet the Candidates
Axios: Why are you running for city council and what is your main goal or priority?
Bone: Representation is important to me and to the community, especially at a time when hate crimes are on the rise. As a black candidate, I bring my lived experience to my campaign. My community is thirsty for something different. … If our government doesn't look like the people it's supposed to represent, that means there are voices and perspectives being left out.
With the challenges communities are facing, we cannot afford to leave precious voices speechless. This is why running for office is so crucial for me – I am ready to stand up for communities that are not being heard.
Crawford: My three priorities are: responsible planning for growth, leading support for first responders, and effective communication with Rogers residents.
Responsible planning for growth: When you look at the list of active projects on the city's website, there are 35 listed. …I will work to help communicate any delays, progress or new projects to proactively mitigate concerns. I have experience in the city's planning commission, so I understand the holistic vision of development. A key space of opportunity in planning for growth relates to the design and implementation in our parks, focusing on grass sports fields to catch up with nearby smaller towns.
Premier Support for First Responders: Rogers should be considered THE city to want to be a police officer in Northwest Arkansas. For this to happen, our police service needs support to improve recruitment and retention. My son-in-law's middle school hasn't had a dedicated school resource officer since he started sixth grade; he is now a seventh grader. The position is filled, but there is a lack of patrol resources, so the School Resource Officer position remains vacant. All Rogers High School Dedicated Resource Officer positions are to be filled. Safety in our schools is a non-negotiable for our students and teachers.
Communication with Rogers residents has room to continue to improve. While the city's social media presence has improved and is doing a good job of tracking events, the City of Rogers website can be difficult to navigate, and information on current issues is not readily available. found online. For example, when residents have concerns or complaints about delays in street or park projects, they struggle to find information relevant to their concerns through the city's communication channels.
Kendal: I am honored by the trust the people of Rogers have placed in me over the past decade to serve as a City Councillor. I believe I have a track record and a vision for the future of Rogers to move us forward. I've been proud to support pro-business positions that have helped attract over 10,000 new jobs, $2 billion in private investment, and cut our unemployment by more than half over the past decade. I have been a staunch supporter of our first responders, voting to fund a new police dispatch station and state-of-the-art communications system that keeps our local police in touch with law enforcement agencies. neighbors.
We built two new fire stations and provided our paramedics with state-of-the-art equipment to keep our community safe. We have made historic investments to provide new parks and community events that will enhance our quality of life. The launch of Railyard Park and our summer concert series and the soon to be completed Mount Hebron Park are just two examples.
If re-elected, I will stay focused on building on those successes and understand that we must continue to balance our growth with the sense of community that makes this city such an amazing place to live.
Weaver: I'm seventh generation Rogers, and while we're doing a lot of things right now, I feel like our city council has become very one-dimensional. I would like to see a voice and representation for all communities, a voice for responsible growth and infrastructure, and a voice for family values ​​as we are currently witnessing the elimination of many of our longstanding traditional events in the town of Rogers; an example would be Frisco Fest.
Axios: What should the municipal government do to best support the growth of Rogers?
Bone: Rogers needs to… offer more initiatives around diversity and inclusion, especially because Rogers used to be a sunset town. To create more initiatives, if elected, I will create a Diversity and Inclusion Council for Rogers so that we can provide the community with incredible initiatives around culture and experiences.
Crawford: It is important that the city is a bridge to bring together residents, developers, businesses and employees while helping to overcome blockages and obstacles that may arise.
Challenges often stem from a lack of understanding, not knowing who to talk to, or being misinformed. Mitigating these challenges comes down to education, relationship building, and consistent communication. The city government should use the best means of communication to proactively keep residents informed of city events and future plans. Having conversations with people at Rogers is key to driving growth.
Kendal: I think what's so amazing about Rogers is that our most pressing issues stem from the tremendous growth and success of our city. Thousands of new residents have moved here to raise families and build careers over the past decade because this community is such an amazing place to live.
We are focused on improving infrastructure, investing in our parks and community facilities, and fostering a positive economic environment that will continue to attract well-paying jobs.
Weaver: Rogers has no problem with having to foster growth; we are currently experiencing record growth. Our problem is to make sure we are ahead of growing pains and not always looking back. We need to build streets and extend water and sewer lines where we anticipate future growth.
We develop affordable housing assistance programs. We need to recognize our homelessness problem and start working on a comprehensive plan before it gets worse.