From Hunter Yurachek's desk: April 5
April 5, 2022
Sweet Sixteen and Beyond
What a great time to be a Razorback! Our programs have been on a roll advancing in NCAA competition, while others are holding up more than theirs in Southeastern Conference games.
Elite finish
For the first time since the magical 1993-94 and 1994-95 seasons, the Razorback men's basketball team qualified for the Elite Eight for the second consecutive NCAA men's basketball tournament. It's a tremendous accomplishment that demonstrates the Arkansas Razorbacks are well and truly back on the national stage.
Arkansas was the last SEC team standing, following wins over No. 1-ranked Vermont, New Mexico State and Gonzaga. The Razorbacks became the first team in history to defeat both a regular season No. 1 team (Auburn) and a No. 1 team (Gonzaga) in the NCAA Tournament.
Although the quest for a Final Four ended in a bitter battle with Duke in the Western Regional Finals, there is no doubt that Coach Eric Musselman, his coaching staff and, above all, our student-athletes have noticed that the Hogs not only can consistently qualify for March Madness, they love to dance!
---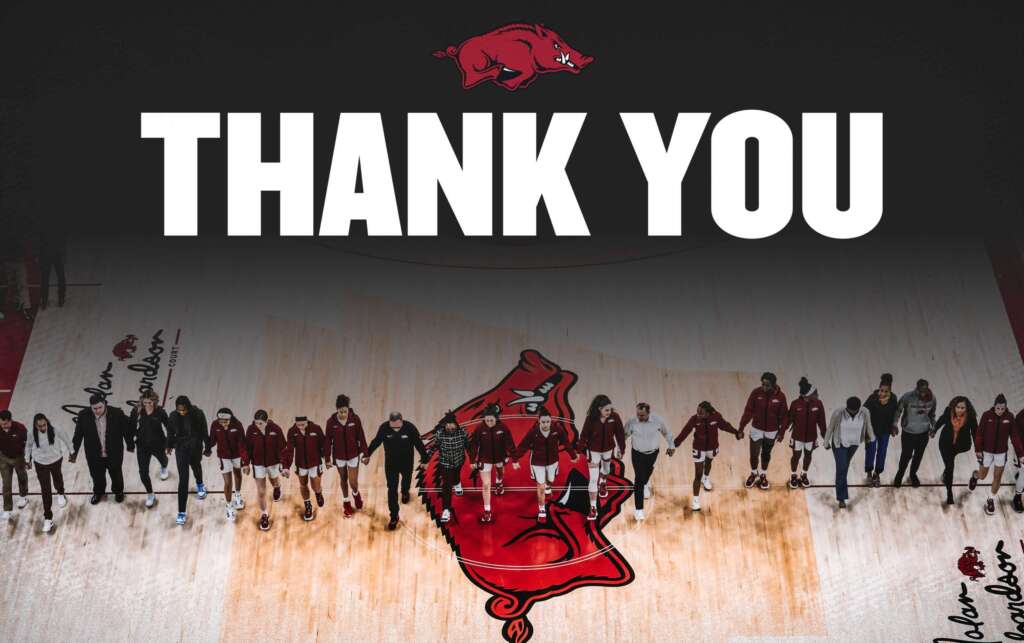 Post-season attendance
Razorback's women's basketball team has won a bid for the NCAA Women's Basketball Tournament. Coach Mike Neighbors and his team have officially hosted the Big Dance for the second consecutive season, having also been groomed for a bid in the 2019-20 season before the pandemic sidelined the tournament.
After a first-round loss to Utah, we said goodbye to fifth-year senior Amber Ramirez, but a talented roster of returning players and newcomers should get us back in the game next season.
Celebrating Sweet Sixteen GymBacks
Coach Jordyn Wieber and the Razorback gymnastics team made their own run to the Sweet Sixteen. Arkansas beat Arizona and Arizona State to advance to the NCAA Gymnastics Regional Finals at No. 1 Oklahoma. A bid to qualify for the NCAA championships failed. However, the momentum of a late-season run will help this team move into next season.
---
Our women's swimming and diving team has also represented the Razorbacks at the NCAA Swimming and Diving Championships. Arkansas finished 28th in the team competition.
---
Extended Series Series
Coach Dave Van Horn and the Razorback Baseball team keep rolling! The Hogs won two games against the defending national champion, the Mississippi State Bulldogs, at Baum-Walker Stadium last weekend. It was the 13th consecutive SEC Series victory for the Razorbacks and the 10th consecutive SEC Series victory at Baum-Walker Stadium.
Arkansas is ranked No. 2 this week in the D1Baseball poll and hosts UCA on Tuesday night before heading to Florida for a Thursday-Saturday series in Gainesville, Fla. Games are scheduled for 5 p.m., 5:30 p.m. and noon CT on Thursday, Friday and Saturday, respectively.
Successful softball on the road
Arkansas' No. 9 softball team hit the road to victory this past weekend. The Razorbacks have won two of three games at Ole Miss. Senior Danielle Gibson became the Razorbacks' all-time RBI leader and Mary Haff gave a two-hit scream Sunday to lead the Hogs to a series victory.
Coach Courtney Deifel and the Razorbacks travel to UCA on Tuesday, before returning home for a series with No. 17 Auburn at Bogle Park. Friday night action begins at 6 p.m. with Saturday and Sunday games at 1 p.m.
GMA from the House of RazorbacksZ
Arkansas alum and Good Morning America co-host TJ Holmes will be streaming live from the University of Arkansas this Wednesday from 6-10 a.m. mascots and various Razorback student-athletes. Be sure to tune in to your local ABC affiliate on Wednesday morning!
Mark your calendars
A number of special events are planned at the Donald W. Reynolds Razorback Stadium, including a Razorback Spring Football Open Practice as part of Wooo Pig Weekend, a Garth Brooks concert, and TopGolf. For more information, click on each event below.
Wooo Pig Weekend (April 14-17)
Garth Brooks Concert (April 23)
Topgolf live at DWRRS (May 5-7)
Razorback Family News
Our thoughts and prayers are with the Bogle family following the recent passing of Bob Bogle. Bob and the late Marilyn Bogle were longtime supporters of Razorback Athletics and the University of Arkansas.
I also send my condolences to everyone who had the privilege of knowing former Razorback Ticket Manager and Director of Guest Services, Mark Scobey. Mark retired in 2020 after more than 35 years with the Razorbacks. He passed away at the end of last month.
Additional Updates
Arkansas will hit the ties in the coming weeks. The men's team heads to the Aggie Invitational this weekend while the women's team will compete in the SEC Championship in Birmingham, Alabama next weekend.
Good luck to all of our former Razorbacks starting their pro baseball season this week, including nine former Hogs who are set to start the season on a Major League roster.
The support our Razorback Foundation members and fans give to our student-athletes is paying off and will continue to do so in the months to come. Thank you!!
Go pigs!
hunter