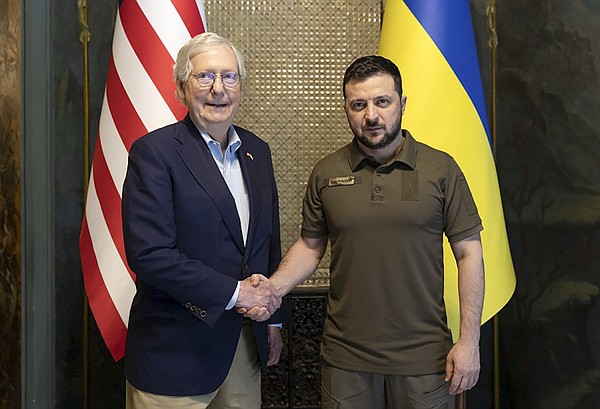 GOP senators make surprise visit to Ukraine
WASHINGTON — Senate Republican Leader Mitch McConnell and a delegation of GOP senators met with Ukrainian President Volodymyr Zelenskyy in Kyiv during an unannounced visit Saturday, delivering the latest show of American solidarity with the country at war with Russia. .
A video posted to Zelenskyy's Telegram account showed McConnell, R-Ky., and Sens. Susan Collins, R-Maine, John Barrasso, R-Wyo., and John Cornyn, R-Texas, salute him in the capitol. Zelenskyy, in an Instagram post, called the visit "a strong signal of bipartisan support for Ukraine from the United States Congress and the American people."
Later, in his nightly video address, Zelenskyy said he thought the senators' trip showed "the close bond between the Ukrainian and American people. We discussed various areas of support for our country, including defense and finances, as well as the strengthening of sanctions against Russia.
The trip came at a time when the Senate is working to approve a nearly $40 billion package for Ukraine, a substantial infusion of support that will push US aid to the region well above 50. billions of dollars. The measure includes $6 billion for Ukraine for intelligence, equipment and training for its forces, plus $4 billion in funding to help Ukraine and NATO allies build up their armies.
The passage was delayed Thursday by Sen. Rand Paul, R-Ky., who demanded the inclusion of a proposal for an inspector general to review the new spending. But final approval is undoubted and could come in the coming week, reflecting overwhelming congressional support for rebuilding Ukraine's war effort.
"They're only asking for the resources they need to defend against this deranged invasion," McConnell said last week of the Ukrainians. "And they need that help right now."
This was the second high-level Congressional delegation to stop in Ukraine in as many weeks. House Speaker Nancy Pelosi, D-California, visited May 1 with a group of House Democrats and promised Zelenskyy that the United States "will be here for you until the fight be finished".
First Lady Jill Biden also traveled to western Ukraine earlier this month for a Mother's Day reunion with Zelenskyy's wife, Olena Zelenska.
FINANCIAL RESTRICTIONS
Meanwhile, the Biden administration is urging international banks not to help Russia evade sanctions, warning companies risk losing access to markets in the United States and Europe if they back corporations or oligarchs Russians facing financial restrictions following the war in Ukraine. .
Senior Treasury official's warning highlights US efforts to pressure Russia's economy through US financial muscle and underscores Biden administration's broad view of its ability to enforce sanctions as it seeks to isolate Russia from the global economy.
In private meetings Friday with representatives of international banks in New York, Adewale Adeyemo, the deputy treasury secretary, laid out the consequences of helping Russians flout sanctions. He pointed to the 'material support provision' which states that even if a financial institution is based in a country that has not imposed sanctions on Russia, the company can still face consequences for violating the restrictions. American or European, including being cut off from these financial systems.
"If you provide material support to a sanctioned person or entity, we can extend our sanctions regime to you and use our tools to prosecute you as well," Adeyemo said on Friday. "I want to say very clearly to those institutions that are domiciled and to other countries that may not have imposed sanctions: that the United States and our allies and partners stand ready to act if they make things that violate our sanctions."
The Biden administration has imposed sweeping restrictions on Russian financial institutions, oligarchs and its central bank. It has coordinated with allies in Europe and Asia to crack down on sanctions busting; the direct warning to foreign banks was part of this effort.
Financial institutions from China, Brazil, Ireland, Japan and Canada attended the meeting, which was hosted by the Institute of International Bankers.
Adeyemo said U.S. banks had been careful to avoid violating U.S. sanctions, but Russian individuals and companies were looking to create trusts and use powers of attorney as workarounds. He also pointed to companies that could provide support to sanctioned oligarchs trying to move their yachts to different ports to avoid seizure.
Most jurisdictions complied with the sanctions, but some, such as the United Arab Emirates, continued to provide a safe haven for Russian assets. The yachts of several Russian oligarchs have been moored in Dubai.
"You've seen a number of Russian yachts leaving ports, from countries that have extended sanctions to countries that haven't," Adeyemo said. "We want to make it clear to people that if you are a financial institution and you have a business that is a customer that provides material support to one of these yachts, you, that business, may be subject to our support provision. material. ."
Referring to his message to foreign banks, he added: "You need to make sure that not only do you make sure you are monitoring the flows to your financial institution, but you also need to help by reminding the companies you support that they, neither do you want them to provide material support to Russian oligarchs or Russian companies as well."
Citigroup, the largest U.S. bank in Russia, with about 3,000 employees there, was in "active dialogue" to sell its Russian consumer and commercial banking businesses, Jane Fraser, its CEO, told Bloomberg this month. this.
Citigroup reduced its exposure to Russia to $7.9 billion in March from $9.8 billion at the end of last year, a filing showed. "This militarization of financial services is a very, very big problem," Fraser said this month. She said she expected global capital flows to fragment as nations developed new financial systems to avoid being overly dependent on Western companies.
Information for this article was provided by The Associated Press and Alan Rappeport and Emily Flitter of The New York Times.
Gallery: Images from Ukraine, month 3