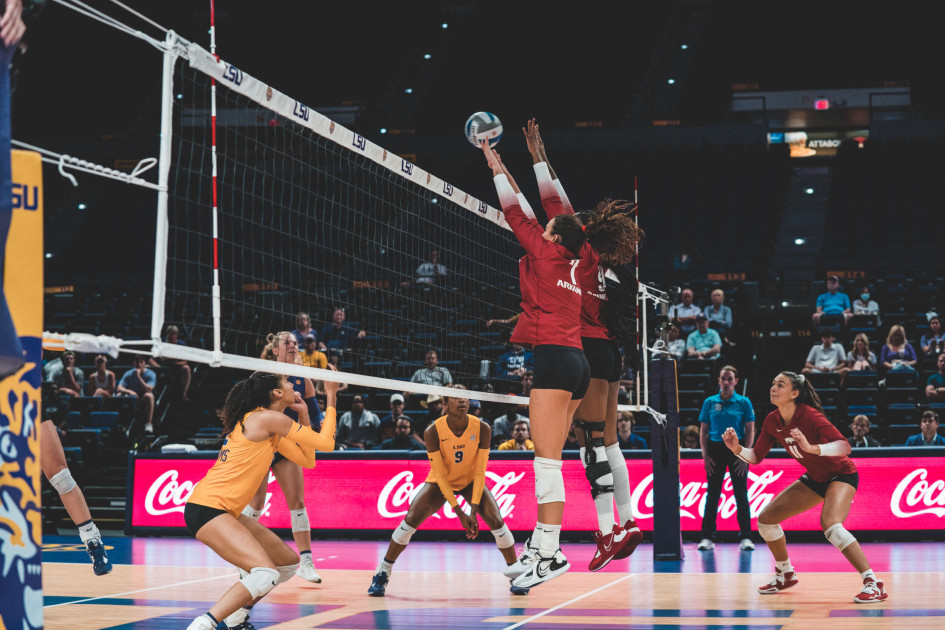 Hogs Drop SEC opener to Tigers
In what was a close battle from start to finish, the No. 20 Razorbacks fought back to force a fifth set in their SEC opener, but LSU emerged 3-2 victorious and inflicted on the Arkansas its first loss since Aug. 27.
It was the first straight-set game of the season for the Hogs, and they are now 9-2. LSU goes 7-4 on the season.
Senior outside hitter Jill Gillen had 21 kills and 15 digs for her third straight double-double. Graduate Hailey Dirrigl came in just behind Gillen with 14 kills and a team-best .273 hit percentage.
Arkansas' defense was a highlight of the night as the Hogs edged the Tigers 13-11, the team's second straight game with 13 blocks. Graduate middle blocker Tatum Shipes had a team-best seven block assists, graduate Abigail Archibong had two solo blocks and two block assists for four overall, and Dirrigl and Gillen also recorded blocks alone.
Set 1
Arkansas came out blazing in the first set and quickly took a 7-2 lead, which featured a four-run run. LSU took a timeout but couldn't change the momentum and the Hogs increased the lead to seven points at 11-4 thanks to a kill from senior Maggie Cartwright. The Tigers began to threaten with three straight runs and came within one, and while Arkansas clawed back a run on a serve error, the home side tied it at 16-all. The Hogs hunkered down and it was close from there, but the Razorbacks pulled away and hit 20 first. Down two, the Tigers called time, but Arkansas pitched four straight for the set point. LSU responded with three, but junior Taylor Head finished the first set 25-21 Hogs with a kill to keep Arkansas unbeaten in the opening sets in 11 games this season.
Set 2
The second set was as close as possible thanks to the first 12 points, during which there were 11 ties between the two teams. LSU then found fire and chained three straight runs for a 15-12 lead at media timeout. Arkansas got one, but two errors from Hog gave the Tigers their biggest lead of the game to that point at 17-13, and the Razorbacks tried to regroup with a timeout. Arkansas couldn't generate substantial points to catch LSU, and the Tigers closed fourth with three straight points for a 25-18 win and a 1-1 draw.
Set 3
Again, neither team gave the other wiggle room early in the third frame, but Arkansas took a 5-3 lead on an LSU error and a Gillen kill. It didn't last long, however, as the Tigers raced to a 5-1 stride only to quickly come back up by three, which sent Arkansas to a timeout. The Hogs chased but never quite found their footing from there, and LSU held the lead. Down 21-17, Arkansas cowered but LSU kept rolling, reaching set point at 24-18. Not going down without a fight, the Hogs stormed back and erased five set points, twice from Gillen kills, and Dirrigl tied it all at 24-all. She made it again at 25-25 and Head tied it at 26, but back-to-back LSU wins sealed the 28-26 victory for the Tigers and put Arkansas in a 2-1 hole for the only second time this season.
Set 4
LSU wasted no time in the fourth set and led for most of the start, but the Hogs warmed up and scored five straight points with two kills from Cartwright and one from Head and Gillen for a lead of 12-11. The Tigers wanted time and scored the first point of the break, but Arkansas stayed alert and chained three points to regain the lead. LSU caught up and capitalized on two Arkansas errors to take a one-point lead at 18-17, which prompted a timeout from Razorback. The Hogs used an ace from Shipes and a kill from Dirrigl to go up 20-18, but the Tigers tied it shortly after. An LSU error and an ace from sophomore setter Hannah Hogue restored the Hogs' two-point lead, which they held from there. A pair of Gillen kills for the 24th and 25th points made Razorbacks 25-21 and forced a fifth set.
Set 5
The Hogs found themselves trailing by two early in the fifth and final set, but the Tigers were never far behind. They used two errors from Arkansas to tie it at 4-4, and from there neither team led by more than a point halfway through the set. LSU then pulled away from two and hit 10 first at 10-8, and Arkansas called time. The Hogs fought back with a kill from Gillen and an ace from Courtney Jackson, and LSU huddled with the score tied at 11-all. Arkansas took a 12-11 and then 13-12 lead, but a service error from Razorback tied it at 13-13. LSU took the lead and Arkansas used a final timeout to try to right the ship, but the Tigers scored out of the break for the 15-13 win and 3-2 victory.
Next
The Hogs host their first SEC home game of the season against Ole Miss on Saturday, Sept. 24 at 3 p.m. at Barnhill Arena. The game was brought forward two hours to accommodate Razorback fans who plan to attend Saturday's contest and see the No. 10 Razorback football team take on the No. 23 Texas A&M Aggies at 6 p.m. on ESPN.
Adult tickets are just $5 and kids 17 and under get in free. Tickets can be purchased online or through the Razorback Ticket Center at (479) 575-5151. All ticket inquiries can be made by phone or to [email protected] The game will also be broadcast live on SEC Network Plus.
More information
Visit ArkansasRazorbacks.com for the latest information on all things Arkansas volleyball. You can also find the Hogs on social media by liking us on Facebook (Arkansas Razorback Volleyball) and following us on Twitter and Instagram (@RazorbackVB).