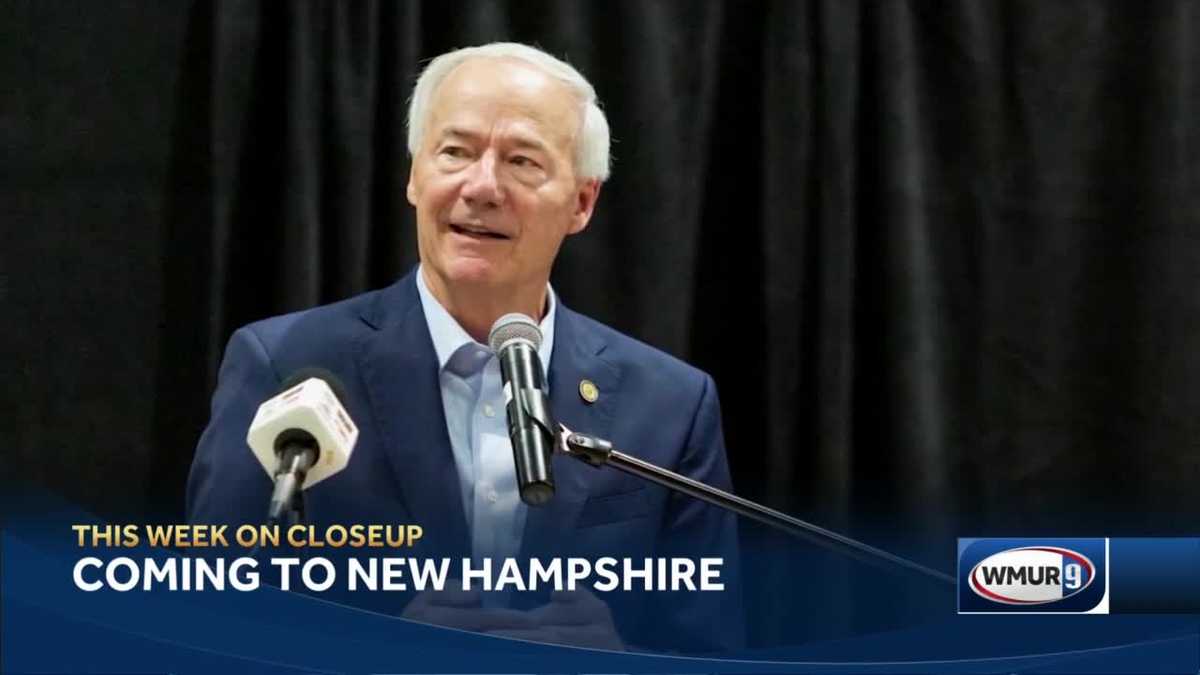 Hutchinson coming to NH to discuss GOP future
CloseUp: Hutchinson coming to NH to discuss GOP future
ADAM: WELCOME TO CLOSURE. THIS YEAR WE GET TO KNOW MORE PROMINTNE REPUBLICANS NATIONALLY. ARKANSAS GOVERNOR ASA HUTCHINSON WILL BE IN NEW HAMPSHIRE MONDAY MORNING FOR POLITICS AND GGS. E HUTCHINSON BRINGS AN EXTENSIVE CV TO THE GRANITE STATE HAVING SERVED AS A UNITED STATES ATTORNEY, IN CONGRESS, AS HEAD OF THE DEA, AND ALSO UNDERSECRETARY FOR HOMELAND SECURITY IN PRESIDENT GEORGW'S ADMINISTRATION .E BUSH. GOVERNOR HUTCHINSON CONNECTS WITH US FROM ARKANSAS THIS MORNING ON CLOSP.EU PLEASE JOIN US, GOVERR.NO GOV. HUTCHINSON: THANK YOU. IT'S GREAT TO BE WITH YOU TODAY. ADAM: SO I THINK IT'S SAFE TO SAY WHY YOU COME HERE ARE YOU INTERESTED IN HAVING OPINION ON THE DIRECTION AND FUTURE OF THE REPUBLICAN PARTY. WHAT IS YOUR VISION FOR THE GOP AND A WINNING CONSERVATIVE MESSAGE IN THE YEARS TO COME? GOV. HUTCHINN: SO IT'S ABSOLUTELY TRUE. I CAN'T WAIT TO BE IN NEW HAMPSHIRE AND IF YOU WANT TO VEHA A NATIONAL MESSAGE YOU HAVE TO START IN NEW HAMPSHIRE. WHAT A NICE STORY OF INDEPENDENT THINKERS. WHEN I TNKHI ABOUT OUR AMERICA'S FUTURE, IT'S ABOUT BEING STRONG AND ENHANCING FREEDOM AND PROBLEM SOLVING AND THAT'S WHAT I WANT THE GOP TO BE, LOOKING AT THE CHALLENGES WE FACE TODAY, THAT AMERICANS EVERY DAY FACE THEIR BUDGSET, INFLATION, ENERGY COSTS, WITH THE CONCERNS WE HAVE ABOUT UKRAINE, AND HAVE SERIOUS DISCUSSIONS ABOUT THESE ISSUES BASED ON PRINCIPLES WE BELIEVE IN, LESS GOVERNMENT, RESTRAINING GOVERNMENT, BUT ALSO A STRONG AMERICA THAT ALWAYS LEADS THE WORLD. THESE ARE TOPICS THAT ARE IMPORTANT AND IF LEADERS LIKE MYSELF ARE ON THE NATIONAL STAGE TO TALK THE IDEAS THEN WE WILL GET OUT OF THE CHAOS, WE WILL BE AWAY FROM THE INTERNAL FIGHTS AND THAT IS WHAT AMERAIC WANTS, LEADERS TO ADDRESSING THIS, THESE IDEAS FOR THE FUTURE, AND WHICH WILL HELP US IN 02 22, THE UPCOMING ELECTIONS. ADAM: YOU HAVE ALREADY COME ON AND SAID YOU DON'T THINK PRESIDENT TRUMP SHOULD BE THE REPUBLICAN BEARER TO GO FORWARD, ESPECIALLY GIVEN HIS OBSESSION WITH THESE ALLEGATIONS OF WIDESPREAD AND COORDINATED FRAUD IN THE 2020 ELECTION , FOR WHICH THERE IS STILL NO EVIDENCE, DESPITE EXTENSIVE INVESTIGATIONS AND AUDITS, DO YOU SEE TRUMP AS A STYLE, A SUBSTANCE OR BOTH WRONG? GOV. HUTCHINSON: IT SHOULDN'T BE ABOUT FORMER PRESIDENT TRUMP, AND I HAVE A HABITF WHERE TO ANSWER QUESTIONS 'I'VE BEEN ASKED AND I'VE BEEN ASKED THIS QUESTION ABOUT PRESIDENT TRUMP AND I GAVE A HONESTNSWER, A AND THIS IS NOT WHERE I BELIEVE OUR PARTY OR COUNTRY MUST GO ON THE ROAD. IN TERMS OF SUBSTANCE, I SUPPORT – EVERY TIME YOU LOOK AT THE TTHA RESPECT WE HAVE GROWED IN TERMS OF ISRAEL AND WHAT WAS ACCOMPLISHED THERE, YOU ARE LOOKING AT THE NEW NORTH AMERICAN FREE TRADE AGREEMENT WHICH IS OBVIOUSLY VERY IMPORTANT TO THE NEW HAMPSHEIR CANADA AND OUR TRADE RELATIONSHIP, THESE ARE ALL THE GRT EAPOCYLI INITIATIVES THAT THE TRUMP ADMINISTRATION HAS MADE. THIS IANS QUESTION WHERE WE ARE GOING IN THE FUTURE AND WE WANT TO EXPECT ON THE CHAOS OF THE PAST, DO WE WANT TO TACKLE ON WHAT HAPPENED DURING THE LAST ELECTION? MY ANSWER IS NO. I WANT TO BE ON PROBLEM SOLVING. I SERVED UNDER RONALD REAGAN, DAN I SEEN HIS OPTIMISM ABOUT AMERICA, ADAM'S STRENGTH: THERE ARE DEFINITELY REPUBLICANS WHO TRY TO IMITATE THE TRUMP STYLE. WHAT DO YOU THINK ABOUT WHAT HAPPENS IN FLORIDA, WHERE GOVERNOR RON DESANTIS IS A PATH TO REVOKING DISNEY'S LONGSTANDING SPECIAL GOVERNMENTAL STATUS OVER A BATTLE OVER THIS AWAKENING AGENDA AND DISAGREEMENTS OVER STATE LEGISLATION? GOV. HUTCHINN: SO THERE IS COMPLICADTE TO VEGI A LOT OF DEFERENCE TO A GOVERNOR TO RUN THE STATE. GOVERNOR DESANTIS HAS BEEN A STRONG LEADER RFO FLODARI, ECONOMICALLY. MY VIEW IS THAT WHATEVER THE UNDERLYING PROBLEM, LET'S NOT USE THE GOVERNMENT TO PUNISH THE PRIVATE SECTOR. THIS IS AN IMPORTANT PRINCIPLE WE MAY DISAGREE AND I DISAGREE WITH THE WAY DISNEY'S CEO HAS HANDLED THESE ISSUES. THAT IS NOT WHAT GOVERNMENT IS AND THAT IS NOT WHAT RESTRICTED GOVERNMENT IS AND THAT IS NOT WHAT FREEDOM IS. FOR E WHAT M IS WHAT I DID HERE IN ARKANSAS AS GOVERNOR FOR SEVEN YEARS, RELEASE THE PRIVATE SECTOR, RELEASE THIS GROWTH AND THE RESULT IS THAT OUR ECONOMY IS BOOMING, CREATING JOBS, THE PRIVATE SECTOR IS GROWING BECAUSE THAT THE GOVERNMENT STAY OUT OF THEIR WAY AND THAT IS MORE MY PHILOSOPHY. AD:AM FOR MOST PEOPLE, REAL-LIFE PROBLEMS TEND TO BE MUCH MORE PRESSING. YOU HAVE BEEN GOVERNOR OF ARKANSAS FOR 7 YEARS NOW. WHAT CAN YOU SAY WHEN PEOPLE ASK YOU TO HAVE A TO RETURN JOBS IN AMERICA, WHO USED TO PROVIDE STABILITY TO SUPPORT A STRONG FAMILY? GOV. HUTCHINSON: WE'RE OPENING THE WAY FOR JOB CREATION BY CUTTING TAXES, IMPROVING EDUCATION AND PAYING OUR TEACHERS MORE. WE MADE IT BY FUNNGDI INFRASTRUCTURE IN OUR STATE. ALL OF THIS HELPS US GROW, BUT IT'S ALSO ABOUT RECRUITING AND THE MOST RECENT BIG STORY IS THAT ARKANSAS WILL SOON BE THE TOP STEEL PRODUCING STATE IN THE NATION, SURPASSNGSI PENNSYLVANIA BECSEAU UNITED STATES STEEL JUST ANNOUNCED AN INVESTMENT OF $3 BILLION IN ARKANSAS TO PRODUCE STEEL AT A WNE MILL THAT IS AT THE CUTTING EDGE OF WILBEL TECHNOLOGY. WE HAVE ARO GWING ECONOMY AND WE OPEN THE GROUND WITH A GOVERNMENT POLICY THAT REDUCES EDTAXES, BIT – WHICH IS BUSINESS-FRIENDLY, HAS REDUCED THE BURDEN OF REGULATIONS AND ENABLED PEOPLE TO SAY THIS IS A PLACE WE CAN WORK AND PROSPER AND THE GOVERNMENT WILL STAY OUT OF OUR WAY. WE HAVE A $1.2 BILLION SAVINGS ACCOUNT WE HAVE NEVER HAD BEFORE AND WE HAVE A BALANCED BUDGET AND THIS IS WHAT BUSINESS PARTNERS WANT A STABLE CONDITION THEY ARE NOT IN DEFICIT SPENDING AND THAT THEY CAN MEET THE NEEDS IN TERMS OF INFRASTRUCTURE AND A FISCAL STRUCTURE BENEFICIAL TO GROWTH. ADAM: OUR ECONOMIC DEPENDENCE ON CHINA AND GLOBAL SUPPLY CHAINS HAS BEEN EXPOSED DURING THE PANDEMIC. AMERICA OUES A LOT OF MONEY TO CHINA, MORE THAN A TRIILLION DOARLLS OF OUR NATIONAL DEBT NOW. HOW WILL WE NAVIGATE THIS OBLIGATION IN THE COMING YEARS WHILE NOT LETTING THE CHINESE TELL US TERMS ON TAIWAN AND IN THE MORE BROAY PACIFIC SPHERE? DL GOV. HUTCHINSON: THIS IS ONE OF THOSE IMPORTANT TOPICS WE NEED TO TALK ABOUT AND THINK ABOUT AND EVERY TIME YOU WATCH CNAHI, THEIR HUMAN RIGHTS RECORD IS AMAZING. EVERY TIME YOU WATCH THEIR REMOVAL OF FREOMED IT SHOULD CAUSE ALL AMERICANS AND IT'S THE SECOND SECOND ECONOMY IN THE WORLD AND WE ARE INTERTACHED IN TERMS OF ECONOMY. WE NEED TO MOVE MORE TO USA. THIS IS ONE OF THE REASONS I AM GLAD STEEL FABRICATION IS THRIVING IN ARKANSAS AND NATIONWIDE, DAN SO WE NEED TO RECOGNIZE THAT CNAHI – WE NEED TO CONTINUE TO BE A VOICE TO STRENGTHEN RIGHTS PROTECTION OF MAN IN THIS COUNTRY. WE MUST HAVE A TOUGH TRADE POLICY WITH THEM, TO ENSURE THAT WE CAN GROW OUR INDUSTRY HERE, ESPECIALLY IN FLDIE MEDICAL. WE NEED TO TRANSITION MORE OF THIS PRODUCTION TO THE US AND THAT'S BECAUSE CORPORATE LEADERS UNDERSTAND WE NEED TO PRODUCE IN THE US AND THAT IT'S BETTER FOR BUSINESS. THIS IS AN EXAMPLE WHERE THERE IS A RETURN TO THE USA AND LET'S NOT BREAK DOWN THAT RETURN, LET'S LOOK FOR WAYS TO ENCOURAGE THAT. ADAM: IN THE SHORT TERM RIGHT NOW, WHEN TALKING ABOUT FOREIGN POLICY, RUSSIA AND UKRAINE GET A LOT OF ATTENTION. DO YOU THINK THE DEMONSTRATION OF PURCHASE HAS GOT THIS RIGHT SO FAR – THE BIDEN ADMINISTRATION GOT THIS RIGHT FOR OARR IS THERE MORE THEY COULD DO? GOV. HUTCHINSON: FIRST OF ALL, I THINK THE BIDEN ADMINISTRATION HAS JUST A GOOD WORK IN UNITING EUROPE TOGETHER TO BE MORE UNIFIED IN THIS AND STRENGTHEN NATO. WE HAVE A BIG ARMAMENT SUPPLY TO UKRAINE AND I APPLAUD THE ADMINISTRATION FOR THAT. OBVIOUSLY I WOULD LIKE TO SEE ALL OF THIS HAPPEN MUCH FASTER THAN WE HAVE SEEN BUT WE ALSO HAVE TO RECOGNIZE THERE IS PROBABLY A LOT HAPPEN THAT IS NOT IN THE PUBLIC PLACE AND THAT'S OK BUT FROM EVERY AMERICAN I BELIEVE GOING TO BED AT NIGHT WATCHING THE NEWS AND SAYING IT WHAT MORE CAN WE DO AND SHOULD WE DO MORE TO SUPPORT THESE FREEMDO LOVERS AND THE SOVEREIGN NATION OF UKRAINE AGAINST THIS INVASION? I BELIEVE WE MUST DO EVERYTHING WE CAN TO SUPPORT THEM. THE ISTH IS A HUMAN TRAGEDY WE ARE SEEING AND IT TROUBLES ME THAT WE HAVE SEEN SOME OF OUR CONSERVATIVE SIDE REMEMBERING OUR SUPPORT FOR UKRAINE, SECOND PRESIDENT OF GUESNGSI ZELENSKYY AND WHAT HE IS DOING. HE HOLDING BREACH AGAINST RUSSIA, HOLDING ETH LINE AGAINST EUROPE AND IF WE DON'T TAKE A STAND WE WILL NOT BE ABLE TO HAVE A FREE EUROPE AND CONTAIN THE RUSSIAN AGGRESONSI WHICH IS THEIR STORY AND WE CERTAINLY SEE IT IS DISPLAYED NOW. ADAM: IN ONE OF YOUR MANY LIVES OF PUBLIC SERVICE, YOU OVERSIGHT BORDER SECURITY. OBVIOUSLY NOBODY IN WASHINGTON WANTS TO COMPROMISE ON IMMIGRATION, BUT IN YOUR OPINION, WHAT IS THE MOST IMPORTANT TNGHI TO FIX FIRST? GOV. HUTCHINN: SO WE NEED TO SECURE THE BORDER, AND I BELIEVE WE NEED TO FIX OUR IMMIGRATION LAWS. WE NEED TO MAKE SU WREE VEHA A LEGAL SYSTEM THAT WORKS BETTER, BUT RIGHT NOW IT IS SO SUPPORTED, AND JUST N, NO MATTER WHAT YOU LOOK AT, THE FLOW OF MIGRANTS, UNDOCUMENTED PEOPLE CROSSING THE SOUTHERN BORDER, C IS A HUNMA THE TRAGEDY, NOT JUST A VIOLATION OF THE RULE OF LAW, BUT YOU SEE THE HUMAN INJURY THAT COMES FROM TTHA AND THE MESSAGE WE SEND TO CENTRAL AMERICA, SOUTH AMERICA IS WIDE OPEN AND WE LET'S RAISE TITLE 42 WHICH MEANS YOU WILL BE ABLE TO GET ASYLUM AND THEY ARE FLOODED, ENTER. THIS IS NOT THE TIME TO LIFT THE PUBLIC HEALTH EXEMPTIONS OF TITLE 42 SO THAT WE CAN PROCESS THESE MIGRANTS FOR CLAIMS ON THE MEXICO SIDE OF THE BORDER. WE NEED TO HAVE A TOUGHEST STAND AND THAT'S WHY I HAVE JOINED 25 OTHER GOVERNORS IN ASKING THE BIDEN ADMINISTRATION, LET'S WORK WITH YOU TO STRENGTHEN THE BORDER, TO PUT TITLE 42, NOT CONTINUE UNTIL WE GET A BETTER ALTERNATIVE. WE MUST BE ABLE TO GUARANTEE THIS. ARKANSAS AND OTHER STATES ARE FLOODED WITH DRUGS CROSSING THE BORDER, INCLUDING FENNYTAL WHICH KILLS YOUNG PEOPLE, AND WE NEED TO BE ABLE TO ENSURE THAT. ADAM: QUICKLY, YOU HAVE NOT ruled out running for president in 2024. Where do you fit into that unique decision-making process? GOV. HUTCHINSON: THE TIME WILL BE AFTER THE 2022 ELECTION. IT WOULD BE AN OBVIOUS FACT TO STATE THAT I WILL BE IN NEW HAMPSHIRE BECAUSE I AM CONCERNED WITH OUR NATIONAL LEADERSHIP AND YES I AM CONCERNED ABOUT 2402 AND IF YOU WANT TO HAVE A MESSAGE THAT SOUNDS, YOU MUST BE IN NEW HAMPSHIRE AND I AM COMING BECAUSE YOU ARE INDEPENDENT, YOU ARE REFLECTING ON THESE ISSUES AND I THINK THIS IS AN EXAMPLE FOR THE NAONTI. THIS IS SOMETHING UNDER CONSIDERATNIO AND WE WILL SEE HOW IT DEVELOPS.
CloseUp: Hutchinson coming to NH to discuss GOP future
Arkansas Governor Asa Hutchinson will be in New Hampshire on Monday morning for Politics & Eggs.
Arkansas Governor Asa Hutchinson will be in New Hampshire on Monday morning for Politics & Eggs.