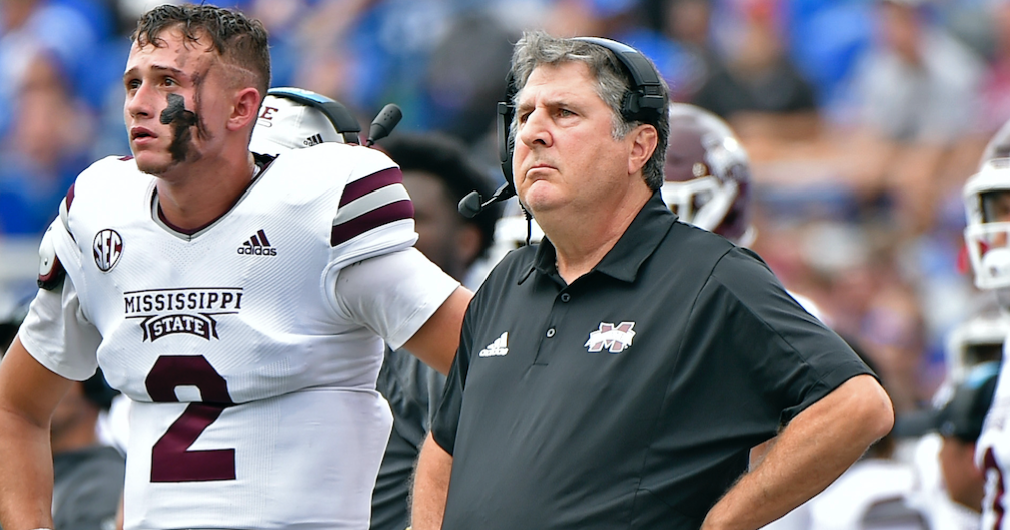 Leach Q&A from pre-Arkansas media
Mississippi State Head Coach Mike Leach spoke to the media on Monday ahead of the Arkansas game. Here is the transcript:
Question: After watching the movie, what do you think of the win against Kentucky?
Leach: I'm not sure we were physically consistent, but mentally and emotionally we were. It kept us focused throughout the game. It allowed us to play at a fairly high level.
Question: What did you think of Marks' rapid progress over the past few weeks?
Leach: He always had a lot of contacts. It's pretty impressive when you realize that he doesn't return kicks. Its all-purpose footage was pretty high. I think it's going to stay that way. The better you are on the O-line, the better the running backs, the better your quarterback in transitioning to different sets, the louder his (running game) will be. The idea is not that we are going to be running all the time. You have to make choices about how you are going to move the football. At some point, someone complains about something. They want you to run it more or run it more. I thought about running 100 percent of the time one game and pitching it 100 percent of the time the next game. And tell everyone that we are balanced. The balance concerns production per shift.
Question: How much has it helped you to be aggressive when the situation calls for it?
Leach: We wanted to keep the ball. We've had it for eight minutes, but you might not even get a first try if you're not ready to attack what the defense gives you. I don't think we can be afraid to throw him into a given situation.
Question: Is there anything you can take away from how Arkansas defended you last year?
Leach: I think they will do similar things. I think they will mix it up a bit more. I don't think they'll be comfortable bringing three every time. They'll be a bit more aggressive, but they don't blitz a lot.
Question: How would you rate Will's progress?
Leach: I think he did a good job. He continued one step at a time and constantly improved. This is sometimes difficult to assess because of the improvement in receivers, offensive line and running backs that contribute to Will's improvement.
Question: What did you think of Richardson's play in this situation?
Leach: I thought he was playing well. I think some of the depth we had in high school was pleasant surprises.
Question: What caused the improvement in third party conversions?
Leach: I think it's definitely beneficial. I didn't realize that was it (35% to 48%), because I didn't think we started the season particularly well on the third try. This is one of the key things, if you keep moving the sticks you get the ball. It's a bit like lottery tickets, the more you play with the ball, the more chances you have to score. So, try to do it.
Question: Is it much easier on offense when the defense is playing well?
Leach: I thought the turnover was huge. I thought the one Charlton caught was – every play matters – but that was the turning point. You never know which one is the turning point until the thing is over. I was hoping he would score, he tried. We were able to eliminate some of their possessions and generally stopped them… held a good team to 10 points (if you don't count the punt return). We have to find ways to improve this week.
Question: Why do you think your team took a leap in the mental aspect?
Leach: It is a process of growth. You do it over and over, you just get better. One thing we have done well this year is to grow old. I woke up everyday, went there and practiced, and look, we've got one more day.
Question: How can you protect yourself from overconfidence in your team?
Leach: Try to keep them focused on their work. Lock in technique and details. Think about yourself, not the adversary. You are still the adversary. How you do your job.
Question: How did you make the adjustment to make plays down the field?
Leach: I thought we were a little less behind them, but we definitely backed them up the other night. Just try to stay the same person. Just do your job. We just have to get out of it.
Question: What do you attribute the interceptions in defense to this year?
Leach: As our defensive line affects the quarterback, that generates this.
Question: Has a petition like the one Arkansas started to get you there ever been successful?
Leach: I do not know. Sports departments can be quite political. You would have to ask them.
Question: What went wrong with that game against Arkansas last year?
Leach: We never got into a rhythm at all. Their three could whip our five. Our eyes were in the wrong place. We didn't put the ball where they gave it to us and we were frustrated. And then it became a series of over-corrections.
Question: What impressed you about Arkansas?
Leach: They are among the oldest. Back to back, we have one of the oldest teams. Plus, they have a week off… again. I am sure they will be prepared. They also improved gradually.
Question: What is a Sunday like for Mike Leach?
Leach: Exhausted, sleep. Really don't eat a lot. Go to the office, we meet, watch the previous movie. Get an idea of ​​our fixes. Team meeting. Then we go our separate ways and have position meetings, special team meetings. We have a practice that night. Then I watch the movie until 1 (early night) or 3 (late night). Because you have to go through this whole film. Sunday and Monday are the most difficult.
Question: What has been the difference with the offensive line this year?
Leach: We improved our technique a bit. We played together longer. I think Will gets rid of it faster. I think the receptors open faster. were more effective. If everyone gets better, everyone's job gets easier. I thought the line was playing pretty hard the other day.
Question: Why do you manage the coaching during "youth practice"?
Leach: That makes a lot of representatives to young people. Just start teaching the package. During the week, they're part of the scout team leading the other team's offense. We'll watch a movie with them, then play with them. See where we are. You always want to have more time to coach them. You're sort of focused on the guys winning the game. It's a nice little transition.
Question: How do you think Greek and Robertson progressed?
Leach: Pretty good. It must be automatic for them. It's one thing to know it and draw it on the board, it's another to get to know your staff and trigger it. I think they are improving at this. Both have very good arms. Sawyer has very good feet in his pocket. Fast more than fast. Can move around a bit.
Question: Can you comment on the blocking work done by the running backs?
Leach: It's an underrated skill, because we get them blocked, more than almost everyone. These flashy types of ball carriers have to block for us. They have to pass protection, sometimes they get stuck for each other. It truly is the position of the ultimate warrior. You have to rush the ball, you have to catch, you have to run and pass the block, which is different. And then you can also be part of special teams. It's quite an accomplishment to be one of these guys.
Question: Then a question about his choice of coffee.