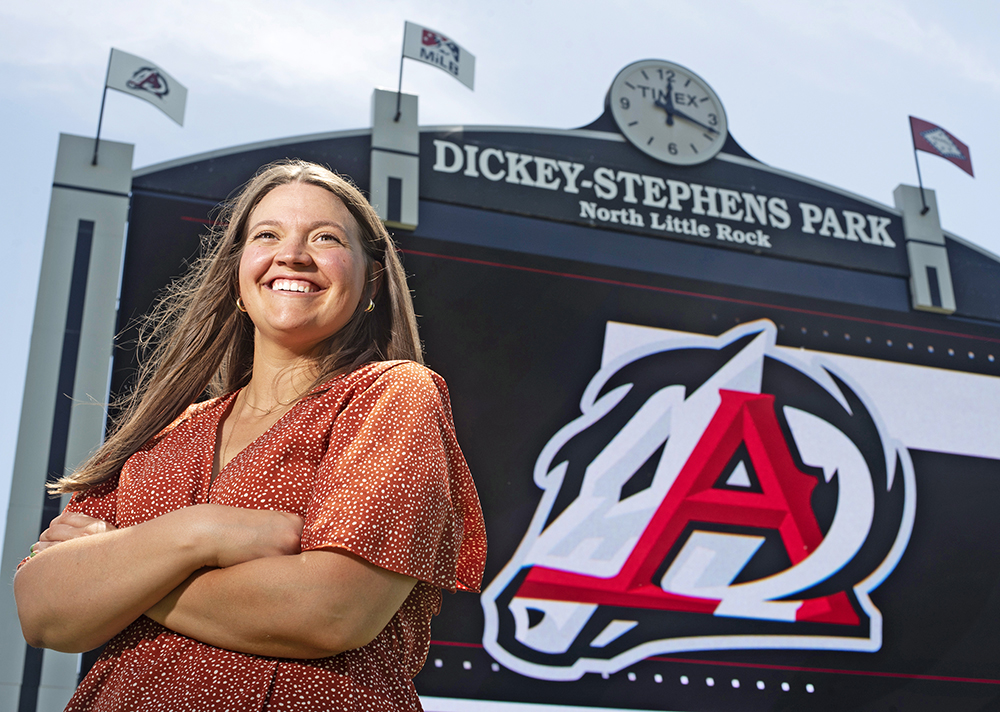 More Boys Club | Arkansas Business News
We were unable to send the item.
Sophie Ozier, 28, became the first female general manager of the Arkansas Travelers at a time when women are advancing in the male-dominated industry of professional baseball.
Miami Marlins general manager Kim Ng became the first woman to hold the position in Major League Baseball when she was hired in November. Another trailblazer was Tampa Tarpons field manager Rachel Balkovec, who was signed to the MLB team and Single-A affiliate of the New York Yankees in January. And a few minor league and independent teams had women as GMs for years before the two made national headlines.
These women, along with Ozier, are exceptions to the rule in professional baseball and professional sports in general.
But the industry has done a better job recently of showcasing women behind the scenes as well as female athletes, and seeing other women get the type of position she's in was inspiring, Ozier said.
To be clear, she didn't aspire to be a GM. The central Illinois native just wanted to work in baseball, period.
Ozier, who has been on the Travs staff for five years, was named chief executive in November. The Travs are also on track to have one of their best seasons this year, she said.
As general manager, Ozier manages the business side of things, not the team itself. Players are selected and paid by the Seattle Mariners, and Ozier is not responsible for hiring coaching staff.
What she does is oversee ticket sales, group tickets, equipment orders, vendor set-ups, Dickey-Stephens Park maintenance and much more during the season. Basically, it's his job to make sure home game days go smoothly.
One of her goals as general manager is to attract more young families to attend games. A success: the launch of a $3 entry and a beer evening. In July, the park hosts a free baseball clinic for children.
Once, Ozier had a nightmare where the park ran out of hot dog buns. She shared this with friends, who made fun of her for it, she said.
But running out of hot dog buns at a baseball game would be disastrous, she said. "Putting out fires is a big part of my job," Ozier said. "And just like knowing the right people. That way, if something falls through the cracks, you have friends you can call who can hopefully help you out.
During the offseason, she makes sure everything is prepared for the players to arrive for the season. She manages team transport and hotel stays. And she orders equipment, picnic tables and even grass.
And she faces many of the same challenges any business decision maker faces in 2022: continuous supply chain backups, hiring amid persistent labor shortages, and a tight budget. after 2020, when revenues plummeted due to shutdowns needed to stop the spread of COVID-19.
It's a good thing that Ozier likes to be challenged.
One of the few
Although she describes herself as a baseball fan, she doesn't think it's a requirement to enjoy the fruits of her and her team's labor. "What I've always liked about baseball is that I don't think you have to be a baseball fan to enjoy going to a baseball game. I don't think you have to be a sports fan. I think it's baseball specific," Ozier said. "I think football, most people are going to watch the game. Basketball, most people are going to watch the game. Baseball is 60-40. Like maybe 60% of people come to watch the game, but 40% just come to have a beer, have a corndog or hang out with their friends.
Ozier has a full-time staff of 17 at her disposal, which she says is small for a Double-A team operation. Double-A is the level from which most players on MLB teams are directly drafted. In fact, one player was called up to the majors this month, she said. "It's really cool to see things like this happen."
She said being the first woman to hold the post of chief executive added pressure to her already very demanding job. Ozier is well aware that she is one of a small number of women making decisions in the industry.
She is the only woman, and quite possibly the only person under 30, to participate in monthly calls with the other eight Texas League general managers.
But Ozier said she tried not to pressure herself too much, figuring there was a good reason she was trusted to run the show. "That being said, I understand the intricacies that go into being a woman in sports or trying to get into this industry. I'm one of those people when I decide to do something, I'm not going to I can't stop doing it until I fail miserably, when I know other women aren't like that.
"And so it's very easy for people to leave the industry if they're defeated or, you know, if someone makes a comment like, 'oh, really, do you want to work in baseball? ""
The most upsetting thing Ozier said she heard time and time again was that she only pursued her career to be closer to attractive athletes. Something else that bothers her is that she is questioned about her knowledge of baseball.
"You have to understand the sport of baseball and how it works [to be a GM]. … But really, it's just about managing people and having a good business head on your shoulders.
As she rose through the ranks, "I just felt like I had to constantly prove myself, maybe more than a man should have. I had to show that I was actually a die-hard baseball fan. I actually knew how it worked, which is not how it should be for a qualified person who has the right people skills or the right technical skills to be able to do this job.
To Travs' credit, she said: 'I've been pretty lucky here. I've never been treated like the office girl.
Ozier said improving female retention is the next step the industry needs to take. It is difficult for women with children to work the endless and long hours required by a job like hers. She doesn't have any children yet, but wants to have some one day. Ozier is also engaged.
Fortunately, she sees this reality changing. "I think the responsibility of women to be primary caretakers is changing," she said.
Ozier is doing her part by adjusting Travs staff's work schedules as she can. For example, it installed staggered shift start times on game days so its employees could spend some of those weekend mornings with their kids.
No excuses
Her advice to other women in the industry is not to make excuses, not to be discouraged because they might be mistreated by some.
They shouldn't let that stop them from working hard to achieve their career goals, Ozier said.
"I am one of those people who feeds me a lot of people who doubt me. It was probably the former athlete in me. … I'm probably my most competitive when people doubt me," she said. "And so it kind of worked to my advantage in that area."
Ozier also advises women entering the industry to never stop learning from the people around them.
The people around Ozier, by the way, aren't from Arkansas. Like her, most Travs staff come from elsewhere.
"Arkansas has been very, very good to me," Ozier said. "I still don't understand the obsession with the Arkansas Razorbacks. … The first time I saw people calling the Hogs, I was like 'what's going on? This is the craziest thing I've ever seen," she joked.
Ozier grew up in a small town, Cerro Gordo, in central Illinois, which has a population of about 1,500. She graduated from high school in a class of about 38 students.
It was a place where children did a bit of everything. The daughter of a Cardinals fan who once played in a competitive men's league, Ozier played softball, which fueled her enthusiasm for baseball.
Her father loved watching the Cardinals play on television and his involvement in softball made him want to better understand his cousin, baseball, so she watched those games with him.
"It just became a thing with me and my dad, just something we could do. That's kind of how my dad and I bonded," Ozier said.
When she started thinking about her career, her mother suggested she do something she loved. "I grew up playing Cardinals games. And I never realized that there were people putting this production together and making it possible," Ozier said. "And so I was like, yeah, that looks really fun."
After high school, she sought out a bigger city and went to a small liberal arts college: Webster University in St. Louis.
"I made a lot of people laugh. "Professional sports? Good luck with that," Ozier said.
Despite her classmates' incredulous reaction to her career aspirations, she began landing internships.
Ozier's first big break was an internship at Fox Sports Midwest, which broadcasts games for the Cardinals, St. Louis Blues and Saint Louis University women's basketball team.
She also interned with the St. Louis Blue ice hockey team and the River City Rascals, a now-defunct professional baseball team based in O'Fallon, Missouri.
Ozier earned a bachelor's degree in public relations in 2016, but didn't get a job in sports as planned until January 2017, when she joined the Travs as a corporate event planner. She progressed to Director of Group Sales and Promotions, Assistant Director and finally General Manager.