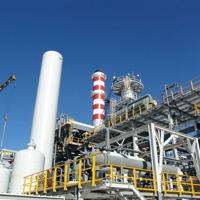 Oklahoma, Louisiana and Arkansas Announce Hydrogen Partnership | News
OKLAHOMA CITY – Govt. Kevin Stitt of Oklahoma, John Bel Edwards of Louisiana and Asa Hutchinson of Arkansas announced Thursday that their states have entered into a bipartisan, three-state partnership to establish a regional center for the development, production and use of clean hydrogen as a fuel and raw material for manufacturing.
In entering into the agreement, the states intend to compete as a financing unit established in the Infrastructure, Investment, and Jobs Act (IIJA) of 2021, in which the U.S. Department of (DOE) is in charge of researching and selecting clean hydrogen hubs to finance.
The law specifies that these hubs must be selected by the DOE based on the mix of feedstocks available to produce hydrogen, available hydrogen users, geographic locations and potential employment effects, among other considerations.
"The State of Louisiana, along with our partner states in this effort, has a long history of producing and transporting fuels and feedstocks in both liquid and gaseous form, as well as a large population of industrial end users who may need 'to use hydrogen as a fuel or as part of manufacturing processes,' Edwards said. 'This is an extension of Louisiana's ongoing efforts to diversify the mix of our energy sources and ensure an approach economically and environmentally balanced for cleaner use of traditional fuels and transition to potential new energy sources."
Each governor has named the following individuals from their respective state to serve as delegates to the partnership: Oklahoma Energy and Environment Secretary Kenneth Wagner; Louisiana Department of Natural Resources Secretary Thomas Harris; and Arkansas Energy and Environment Secretary Becky W. Keogh. The designated individuals will serve as the primary authority and point of contact to coordinate government, research and private sector efforts to promote the development and use of hydrogen.