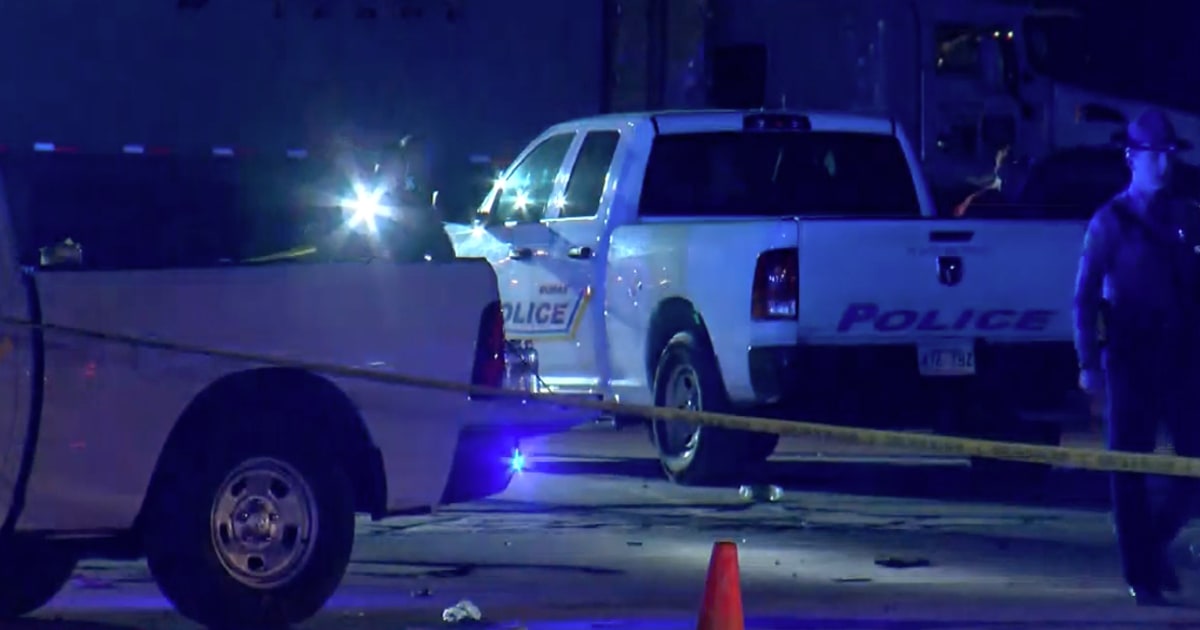 One dead, 27 injured in 'shootout' at Arkansas auto show, officials say
A man was killed and at least 27 others were injured in a "shootout" at a car show in Dumas, Arkansas on Saturday night, authorities said.
The victims were described as bystanders in a shootout between two suspects, Arkansas State Police Col. William J. Bryant said at a news conference Sunday.
"Ultimately, there are only two individuals involved in a shooting," he said. "Unfortunately, we had several victims of the shooting."
One person was arrested, but authorities were unclear about any possible connection to the violence.
"It's an unrelated arrest," Bryant said. "…We are still looking for two people."
At least six children – the youngest is 19 months – were among the injured, he said. They were taken to Arkansas Children's Hospital in Little Rock, according to a spokeswoman.
At least five had been released by Sunday afternoon, the colonel said.
The deceased was identified by authorities as Cameron Schaffer, 23, of Jacksonville, Arkansas. Bryant said there was no indication the victim was one of the shooters.
Governor Asa Hutchinson said he would monitor the investigation as it unfolds.
"As the investigation continues, I will review the details to see if there are any steps that could have been taken to prevent this type of tragedy," Hutchinson said.
Troops, highway patrolmen and investigators were dispatched around 6:50 p.m. to a parking lot where the event, billed by promoters as a car and bike show, was taking place, Bryant said.
The auto show is part of a community event held each spring called Hood-Nic, which is short for neighborhood picnic. The Hood-Nic Foundation states on its website that its mission is to "rebuild, reunite and meet the needs of young people in our communities."
​​The event, which helps raise funds for scholarships and school supplies, also included a bonfire, basketball tournament, musical performances, teen party and balloon release.
Virtual flyers advertised the larger event as "NeighborHOOD PicNIC" and "Hoodnic Weekend."
Video from the event grounds verified by NBC News shows a setup similar to a music festival, with a stage, food concessions, tarp-covered booths and dirt-covered walking paths.
The event's organizers, a non-profit group called the Hoodnic Foundation, said they were "heartbroken and in shock about what happened at tonight's car show," in a statement posted on its Facebook page.
The organizers also described themselves as working under the name Delta NEYO
Group manager Wallace McGehee told the NBC affiliate KARK of Little Rock that he witnessed the shooting and tried to get the children out of harm's way.
"Coming down, trying to get the kids away, that was the main issue for all of us," he said.
McGehee said the group encourages nonviolence. The Hoodnic Foundation is listed on Transparency websites as a non-profit educational association.
It was the 16th year for the biggest event at Dumas, McGehee said. The other years, he says, went smoothly.
"Send your prayers, send your condolences," McGehee said.
Chris Jones, a Democrat running for governor of Arkansas, tweeted that he attended the event earlier on Saturday, registering voters and enjoying a "positive family atmosphere."
"I am deeply saddened (and honestly angered) by this tragedy," Jones said in a statement.
The Associated Press contributed.