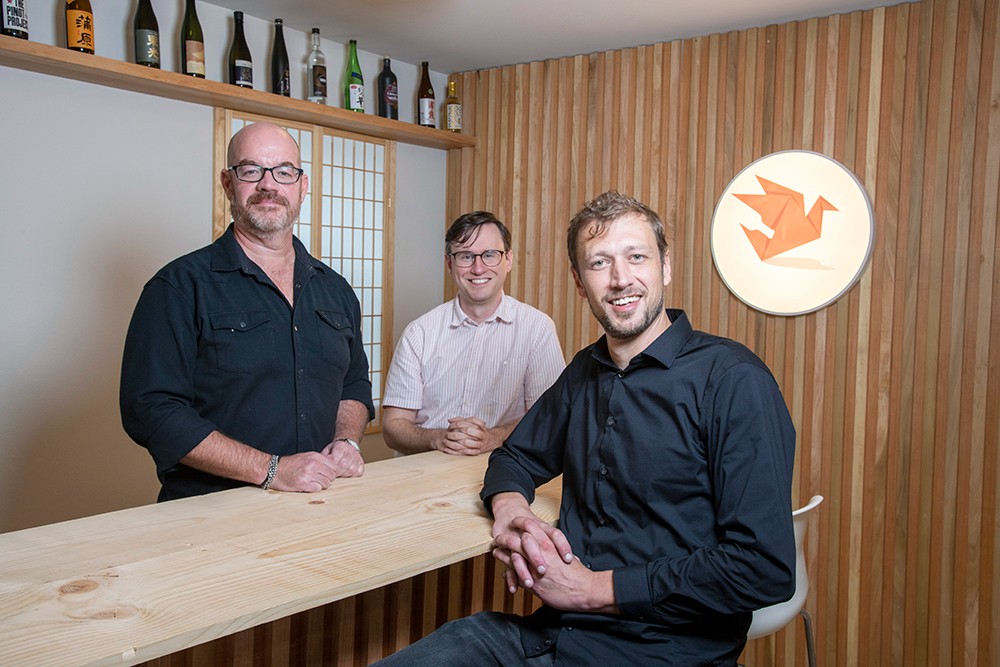 Origami Sake Brewery Opens in Hot Springs | Arkansas Business News
We were unable to send the item.
Matt Bell and Ben Bell, partners of Origami Sake, the state's first sake brewery currently under construction in Hot Springs, have a grand plan: to make Arkansas the "Sake Valley of Napa."
If that happens, they'll just do what they say Americans have always done, with all kinds of booze. "There's a long – and I think it should be an even more famous story – of America taking an alcoholic beverage from somewhere else and really elevating it as high as it can go," said Ben Bell, co-owner of Origami Sake. and the company's vice president of operations. (Although the two Arkansans share a surname, they are unrelated.)
The couple aim to take advantage of the state's abundance of rice and the world-famous water of the Hot Springs region to produce their sake, the Japanese alcoholic beverage made from fermented rice.
"When you hear about business opportunities or ideas, 99% of them aren't good ideas," said Matt Bell. But the idea of ​​Origami Sake was different. It "stook to me as being the best for Arkansas and something where we could be first and the leader and really change the category of sake for the country."
Matt Bell said he was selling his stake in Entegrity of Little Rock, a solar contractor and energy efficiency company, and turning his full attention to Origami Sake.
There's the Napa Valley and the comparison of wines, Ben Bell said, but there's also the example of the rural southern states of Kentucky and Tennessee and the development of bourbon and other whiskeys now known around the world. entire. "If you think you can't create a famous thing and a well-respected thing in a rural state, clearly you can't," he said.
Matt Bell's MFB Investments LLC paid $375,000 in December for 3 acres and a 22,000 square foot building at 2360 E. Grand Ave. which is being transformed into the first sake brewery in the state and one of only 20 in the United States. Matt Bell said his investment in the project will total north of $3 million.
The business partners hope to have Origami Sake in full production – and open to the public – by the first of next year.
A visit last week revealed a spotlessly clean space with a decidedly Japanese aesthetic that's clean and sleek. Most of the equipment hasn't arrived yet – most of it is due in November – but a refrigeration chamber housed gleaming stainless steel tanks and a cypress-lined koji room awaited the rice that will be grown with the spores. from koji mold that break down rice starches into sugars.
"Most people aren't used to good sake," said Matt Bell. "I feel like that's the No. 1 problem," added Ben Bell. And this is another of the objectives of Origami Sake: to introduce the public to good sake, artisanal sake, premium sake.
A versatile drink
Sake is sometimes incorrectly described as Japanese rice wine, but it is produced using an entirely different process, a process called multiple parallel fermentation in which rice is converted from starch to sugar and then to alcohol. . It usually has an alcohol content of 14% to 16%.
Although it is the national drink of Japan, the consumption of sake is decreasing there due to the aging of the population, but the interest in this drink is increasing all over the world. The global sake market was valued at $9.3 billion in 2019 and is expected to reach $13.1 billion by 2027.
Sake has three main flavors, said Ben Bell, who has professional certifications in wine, spirits and beer. The first is fruity, a flavor provided by the type of yeast used in production and most popular in craft sake. The second is an umami-rich style. Umami is a savory flavor, the flavor associated with meats, aged cheeses and soy sauce. The third is a light, dry and crunchy style, which goes well with delicate foods like light fish, salads and sushi.
The fruity style will be Origami Sake's "flagship style," Ben Bell said, but it will start producing multiple styles.
Sake, he said, is "one of the most versatile drinks to accompany food", but it can also be enjoyed on its own, like a glass of wine, beer or whisky.
Sake is produced from medium-grain polished rice, that is, rice that has been ground to remove the husk and all but the starchy inside of the rice grain. The more polished the rice, the more delicate and refined the flavor. Premium sake is usually produced from rice polished to 50% or less.
Isbell Farms of England, which grows Yamada Nishiki rice – often called the "king of rice" for sake – will supply the rice for Origami Sake, but the brewery is also interested in buying from other farms in the area that produce Jupiter or Titan rice varieties.
Only a few factories in the United States polish rice for sake. A mill in Minnesota is currently polishing rice for Origami Sake, but Matt Bell said: "We are working on opening a mill in England, Arkansas, a polishing mill, which will be in the heart of rice.
He wasn't ready to divulge details about who was involved in the factory effort, but Origami Sake's interest lies in reducing transportation costs. "One of the key elements of our brewery here is to reduce the environmental footprint of what we do [and using] local as much as possible," said Matt Bell.
Water is the other main component of sake, and for this, Origami Sake dug its own well on the property, drilling 680 feet. "Our water quality is absolutely perfect for making sake," said Matt Bell. "It's the Ouachita Mountains aquifer, and the two things that kill sake are iron and manganese, and we basically had undetectable amounts of those sake killers," he said. And the pH [the degree of acidity or alkalinity] is another important factor, and our pH is ideal. It does not need to be adjusted. It's just pure Hot Springs water.
The yeast used to make sake comes from Japan.
"A rather special hiring"
In March, Ben Bell, a graduate of the Arkansas School for Mathematics, Sciences & the Arts in Hot Springs and the University of Arkansas in Little Rock, left his position as assistant Japanese portfolio manager at Michael Skurnik Wines in New York, a wine and spirits distributor, to support the Origami Sake project. He recently bought a house in Hot Springs. Matt Bell also has a house in the spa town.
They hired Justin Potts as their master brewer for Origami Sake. "Justin is a pretty special newcomer to the sake world," said Ben Bell. "He has lived in Japan for 15 years and he is a consultant for sake breweries and worked in a large sake brewery. He's about as high up in the sake industry as you can get.
Potts, a Seattle native, co-founded the first sake podcast, Sake on Air, and is an excellent educator, Ben Bell said. Potts moves his family from Japan to Hot Springs.
Cassady Harris, a native of Lafayette, Louisiana, joined the team as operations manager. He too trained and worked at sake breweries in Japan and consulted a sake brewery in New Orleans.
Rounding out the team, Brock Bennett, a Canadian, is responsible for quality control. Bennett is production manager of Dojima Sake Brewery in Fordham, England.
In addition, Nanbu Bijin, the sake brewery in Japan where Ben Bell trained, "provides tremendous technical support to us" and sends a master brewer in November for long-term consultation with Origami Sake.
The brewery plans to produce 1.2 million liters of sake by the fifth year and has spoken with several local liquor distributors about distributing its products. "We're going to walk before we run," said Matt Bell. "We need to perfect our process and our quality, so we'll start with a few styles, two or three. Access our distribution. Let's sort of start here in Arkansas, and as we perfect consistency and quality, we'll start to expand for nationwide distribution.
"As an Arkansas drink, we think we can really shift categories here and pretty much anywhere in the United States," said Matt Bell.
Ultimately, he said, Origami Sake is about a "sense of belonging and a sense of caring."