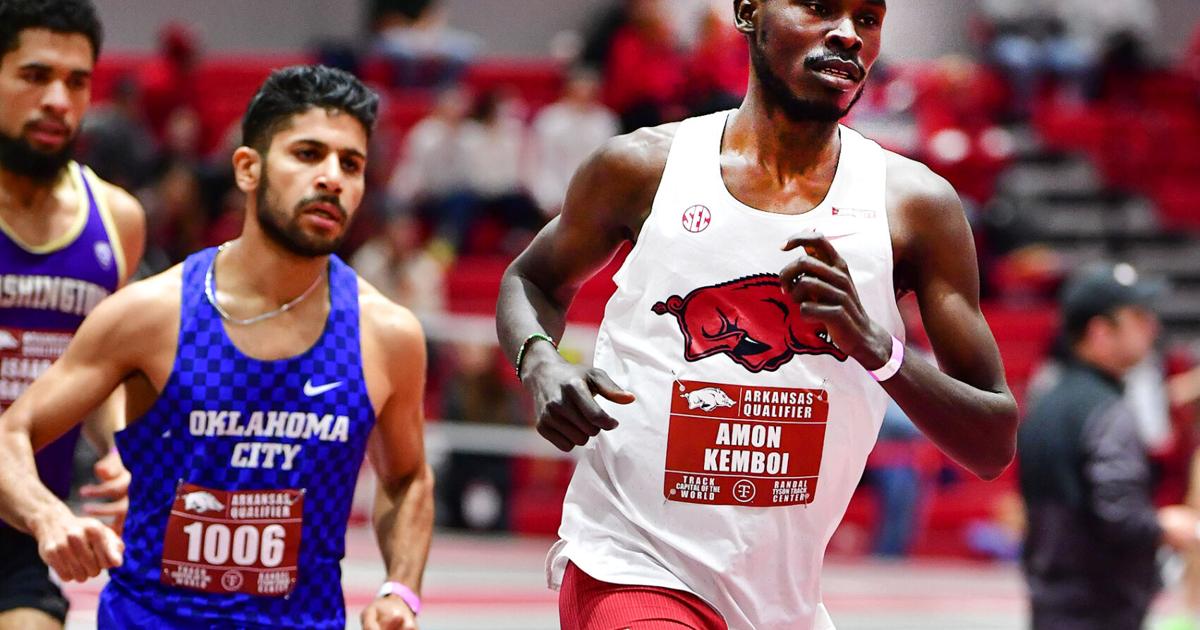 Razorbacks set personal bests and broke records in Arkansas qualifier | Sports
Razorback's men's and women's track teams boasted a record-breaking encounter during Friday's Arkansas qualifier in Fayetteville.
Senior Logan Jolly, sophomore Isabel Van Camp and senior Krissy Gear helped the Razorback Women's Track and Field Team finish in the top three in the 1-mile race. Jolly's time of 4:35.26 set a meet record.
Redshirt senior Kennedy Thompson took first place in the 800 meters with a time of 2:8.16. The Razorbacks had two top 10 finishes in the 400-meter race, with junior Paris Peoples placing fourth with a time of 52.88 seconds and rookie Ahanti Denton finishing sixth with a time of 53.73 seconds.
Freshman Alexis Torns took fourth place in the triple jump with a career-high 41 feet, ¼ inch, or 12.5 meters. Redshirt junior Amanda Fassold also had a career-best pole vault pass, clearing 14 feet, 7.5 inches, or 4.46 meters.
"I think Arkansas qualifying worked for us in a lot of ways," Arkansas women's head coach Lance Harter told Razorback Athletics. "If anything, it gives us better rankings going into the SEC meet."
Despite finishing fifth in the event, the men's team decimated the Razorbacks' previous distance medley relay record – and delivered the eighth-best collegiate performance of all time – with a new time of 9: 24.56. Arkansas' qualification marked the Hogs' first attempt at the medley distance race this season. Redshirt senior Amon Kemboi also cracked the all-time collegiate top 10 with his second-place finish in 7:42.29 in the 3,000 meters.
"The[medley relay]team started today with a great run and a school record," Arkansas men's head coach Chris Bucknam told Razorback Athletics. "It was perfect and the guys kind of let go and let go. We had five teams that all finished pretty close to each other. I'm just happy with the way these guys raced. Breaking the school record to this point is a very big effort on the part of our guys.
Redshirt sophomore Phillip Lemonious earned second place in the 60-meter hurdles with a season-best time of 7.66 seconds. Senior Roman Turner also clocked a season-best time of 6.71 seconds in the 60 yards.
Freshman Ruben Banks hit his season best with a second-place shot put, throwing it 68 feet, 9.25 inches, or 20.78 meters. In the pole vault, redshirt junior Etamar Bhastekar placed third and rookie Rhett Nelson finished seventh with marks of 17 feet 2.75 inches (5.25 meters) and 16 feet 8.75 inches (5 ,10 meters), respectively.
The qualifier gave Division I and Division II schools an opportunity to improve their competitive performance ahead of the Southeastern Conference and NCAA championships, each coming in the next two weeks.
The men's and women's teams will then face off Friday and Saturday at the SEC Championships in College Station, Texas.