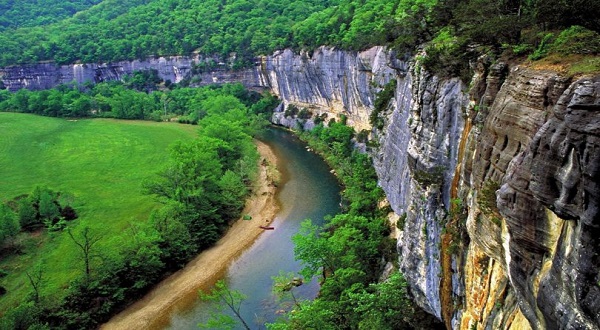 Report: Arkansas Tourism Surpasses Many States During Pandemic

Data released Monday by the Arkansas Department of Parks, Heritage and Tourism indicates that Arkansas' tourism industry performed well in 2020 despite the challenges of the global COVID-19 pandemic. State tax collections were $363.7 million, with local taxes at $138.8 million, according to the 2020 Arkansas Tourism Economic Impact Report released at the 48th Arkansas Governor's Fayetteville Tourism Conference. The numbers represent a decrease of 21.8% and 16.95, respectively, from 2019 figures.
"I am pleased with the results of our 2020 Economic Impact Report," said Stacy Hurst, Secretary of the Arkansas Department of Parks, Heritage and Tourism. "While the declines in visits and tax collection in this year's report are not ones we want to repeat, the good news is that we have outperformed many of our competitor markets. The data reflects the hard work and commitment of our industry to successfully meet unprecedented challenges. I salute Governor Asa Hutchinson's work in ensuring the state does not shut down completely, and his response has been critical in keeping our industry open for business.
Arkansas visitor centers assisted just over 627,000 visitors in 2020. The state recorded $6 billion in overall visitor spending, down 25.3% from 2019.
At the onset of the pandemic, Arkansas Tourism quickly halted its out-of-state marketing efforts. As recommendations and travel advice slackened in late summer and fall 2020, Arkansas Tourism resumed marketing out of state, using funds set aside for the spring.
"Arkansas fared better than many of our competing states," said Travis Napper, director of Arkansas Tourism. "The Natural State has long been known for its beauty and outdoor attractions, and our reputation has served as a safety net during a difficult time for more urban destinations. As the world continues to emerge from the pandemic, we already know that 2021 data will show a banner year for visits to Arkansas. More than ever, people are looking for safe outdoor activities and they have clearly realized that Arkansas is the place to go.
About Arkansas Tourism
Arkansas Tourism, a division of the Arkansas Department of Parks, Heritage and Tourism, works to expand the economic impact of travel and tourism in the state and improve the quality of life for all Arkansas. The division operates 14 reception centers in Arkansas and employs more than 60 people across The Natural State. For more information, visit www.arkansas.com.
Web readyMT Powered by WireReady® NSI