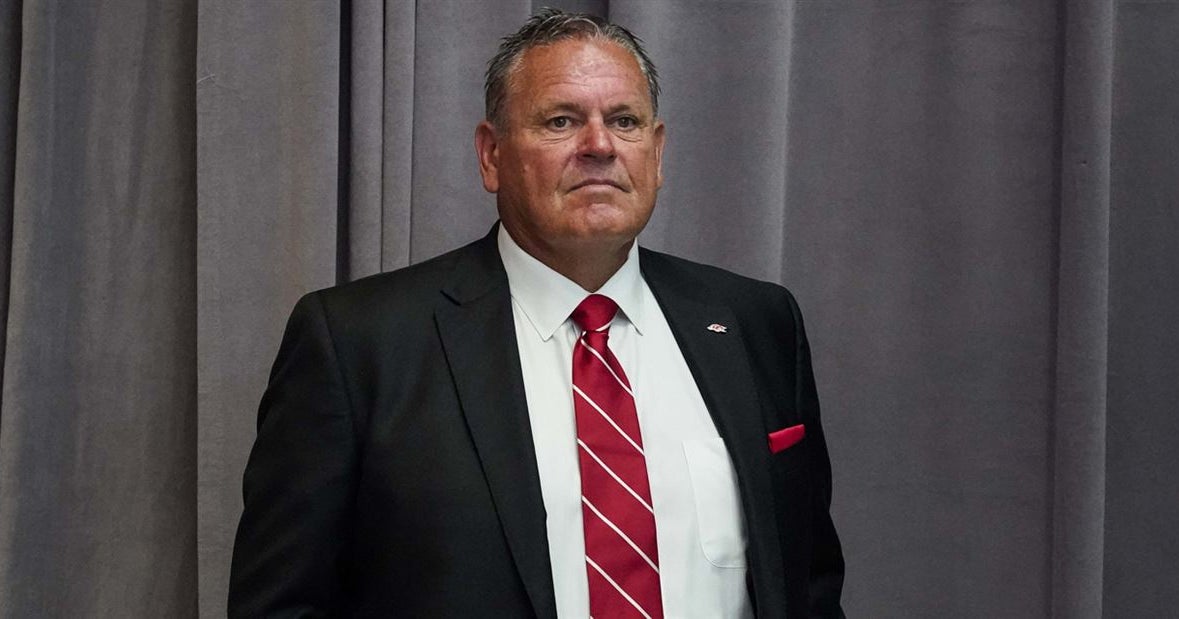 Sam Pittman happy with how transfers fit in at Arkansas
The Arkansas Razorbacks lose several key contributors to last season's team that finished 9-4 with a New Years Day victory in the Outback Bowl, but expectations remain high in Fayetteville for the 2022 campaign thanks in part to an influx of talent arriving on campus via the transfer portal.
Whereas Sam Pitman and his staff assembled the 22nd class of signings in the nation, the Hogs also doubled over and plugged some remaining holes with a nine-man transfer streak that ranks No. 10 in the nation, according to 247Sports.
The group of experienced newcomers includes wide receivers Jadon Haselwood (Oklahoma) and Matt Landers (Toledo), linebacker Drew Sander (Alabama), defensive linemen Jordan Domineck (Georgia Tech), landon jackson (USL) and Terry Hampton (Arkansas State), quarterback Cade Fortin (South Florida) and defensive backs Dwight McGlothern (USL) and Latavious Brini (Georgia).
With so many new faces expected to help come into the fold, one of Pittman's concerns was how much time he would need to set aside during fall camp for things like team bonding activities for help acclimate everyone, but so far he's come away happy. with how everyone fits into their new surroundings.
In his eyes, credit can be attributed to the trust established between staff and returning players, who know that anyone coaches bring in will fit into the winning culture already in place at Arkansas. Chief Hog spoke about the subject during his media scrum before taking the main podium at SEC Media Days on Wednesday.
"I was so worried about the portal. Not necessarily losing a portal but gaining one," Pittman said. "Then I understood that every year you have about 25 new players on the team among the freshmen, and they are well received. The expectations of their job and to be a good person and to go in class … our team has been exceptional with all the transfers.
"Our team trusts us, and we certainly trust them. But I think they trust us with the guys that we bring in with character and ability. They get them with open arms. That tells you about the kids that we have on the team. I was worried about that, but I got to thinking that we were losing 20 and gaining 25 every year before the portal even really existed. I know that we brought in nine fellows from the portal this year, and it looks like they've been well received and are all fitting in well with the team."
Although cornerstones like Grant Morgan and Treylon Burk moved on, Arkansas has a strong core of returning leaders. Look no further than the trio who accompanied Pittman to the SEC Media Days in KJ Jefferson, Bumper pool and Jalen Catalonia. However, each team takes on its own identity and there is always room for newcomers to emerge in the leadership department – whether vocally or for example.
"You should ask the guys on that one how they feel," Pittman said. "When they collapsed, I heard Haselwood talking to the team. Drew Sander isn't exactly talkative, but the kids certainly respect him. landon jackson is a bit different situation because he was unable to train even though he is cleared and ready to go now. I heard Brini speak in there. Matt Landers just arrived. He's still a quiet boy.
"I don't really know on the defensive line, we have four guys who came in, two inside and two outside. I don't know if any of them are really vocal for roles of leadership I think Drew Sander will end up being one because he's at linebacker. Dwight McGlothernhe talks a lot, but he also supports him."
Fall camp is set to begin for the Razorbacks in early August, and fans will begin to get their first real taste of how the newcomers will fill the void for those who saw their time with the program come to an end when Arkansas hosts. Cincinnati for the season opener on Saturday, Sept. 3 in Fayetteville, Ark. Kickoff from the Donald W. Reynolds Razorback Stadium is scheduled for 2:30 p.m. (CT) and the game will be televised on ESPN.
Did you know HawgSports.com has a podcast called HawgSports LIVE, as well as the popular and occasional Walk & Talk? New episodes are available every week, bringing you the best Razorback breakdowns and opinions from the best guys in the business, Trey Biddy, Danny West and Curtis Wilkerson. Watch the latest episode and also subscribe here on itunesor watch the latest episode here on megaphone or listen and subscribe wherever you get your podcasts. Just search for HawgSports Live on your favorite platform.