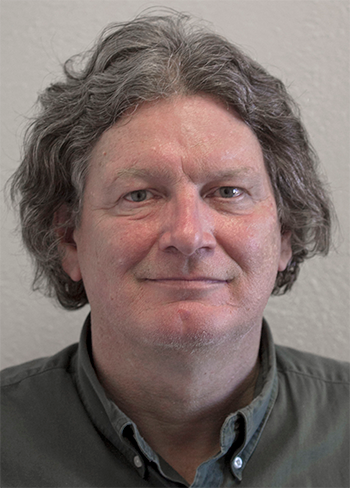 Stephen Steed, journalist and editor of the Democrat-Gazette, dies at 62 | Arkansas Business News
We were unable to send the item.
Stephen Steed, a longtime Arkansas journalist who has built a reputation for skillful writing, fairness, and empathetic interviewing over decades of work at the Arkansas Gazette, Donrey and Stephens Media, and finally at the Arkansas Democrat-Gazette, died Sunday or early Monday at his home.
He was 62 and lived in Little Rock. For the past few weeks, he had worked as the news services editor for the business section of the Democrat-Gazette. He was working from home amid long-term health issues and told several colleagues that complications from a leg amputation had hampered his ability to report in the field. Desk work suited his condition better, he said. At the time of his death, Steed was also being treated for cancer.
"He was probably one of the best writers I've ever known, a great storyteller," said Rachel O'Neal, who noticed Steed hadn't returned from his home on Monday and discovered the body after drives to his apartment to check on him. . "I'm still in shock," she said. "I have a brother, but Stephen was like another brother to me."
A business and agricultural reporter since joining the Democrat-Gazette in 2016, Steed was a proud native of Leachville, in far northeast Arkansas, and was a childhood subject on Ripley's Believe It. or Not. He and his two brothers were all born on the same date in different years.
"He loved that little factoid," said O'Neal, the former Democrat-Gazette economics editor and now editor of the paper's High Profile section.
She and all the other colleagues who spoke about Steed mentioned his legendary parties for journalists, editors, photographers and various kind eccentrics.
Steed studied journalism at the University of Arkansas and immediately impressed the editors of the old Arkansas Gazette as a raw intern. As his former colleague Max Brantley wrote when breaking the news of Steed's death for the Arkansas Times, "He was hired straight into a staff position about 40 years ago."
After the Gazette closed in 1991, subsumed by the Democrat-Gazette, Steed reported for Donrey Media and Stephens Media, which bought Donrey, before heading communications for the Arkansas House of Representatives, his last job before the Democrat Gazette.
"He loved newspapers. He loved working for newspapers. And people loved him," Brantley told Arkansas Business in an email.
Brantley was a longtime editor and columnist for the Gazette.
"I really thought farm coverage was a perfect fit for him, no doubt in part because of his upbringing in Leachville." Leachville, Mississippi County, is part of the Arkansas Delta, where fields of soybeans, cotton, and rice stretch to the horizon.
In a note for the Arkansas Gazette Alumni Facebook page, Brantley wrote "Muffle the drums and hang the pancake at Midtown Billiards," Steed's former haunt on Main Street in Little Rock.
"He had an incredibly eclectic collection of what I would call shit," O'Neal said. "He called them treasures, ranging from a life-size Elvis head to…what else, he loved Mr. Peanut. Johnny Cash and Levon Helm [both Arkansas natives] were his favorites. He was a pack rat in the best way."
Brantley said he still cherishes a paperboy's bag Steed gave him, one of his many finds.
Another former colleague, Arkansas Business editor Jan Cottingham, called Steed "the rarest journalist," someone both loved and respected.
"Stephen loved Arkansas and could get anyone to talk to him," Cottingham said. "He was a good writer and a precise and fair journalist."
Cottingham recalled the newspaper parties as legendary. "I mean legendary," she pointed out. "Stephen was almost always cheerful and encouraging despite his own personal issues, particularly health issues. You always felt better after talking to him."
Brantley and Scott Morris, a former journalist who is now a senior corporate affairs adviser for Windstream, both agreed.
Morris, a UA journalism graduate a few years after Steed, met him when Morris started his own Gazette summer internship in 1986. "Stephen was one of the veterans who welcomed me with open arms. ", said Morris. "I really, really enjoyed that, and I admired him and I admired his work ethic. He had this incredibly open personality that helped him as a journalist. He could get anybody to talk about anything."
Steed always asked intelligent questions and had "a nice, easy-going writing style that was very easy to read," Morris said. "The other thing was that he had a phenomenal memory. He could remember details from years and years ago."
Morris recalled that when he got his first front-page byline, "Stephen was one of the first people to congratulate me, and I remember to this day he said, 'That's a kick in the head," he said. always has been."
Steed is survived by one sister and one brother, O'Neal said; funeral arrangements had not been finalized as of Tuesday morning.
Morris and Steed spent Saturday night at Steed's apartment watching the Razorbacks win over New Mexico State in the NCAA Men's Basketball Tournament. Both men suffered for much of the game, with the Razorbacks shooting poorly and struggling against the underdog Aggies.
"But in the end, of course, we were both celebrating, both very, very happy," Morris said. "I'm glad that was my last memory. He was happy. You know, if he was going to go, I'm glad he was so happy and content."