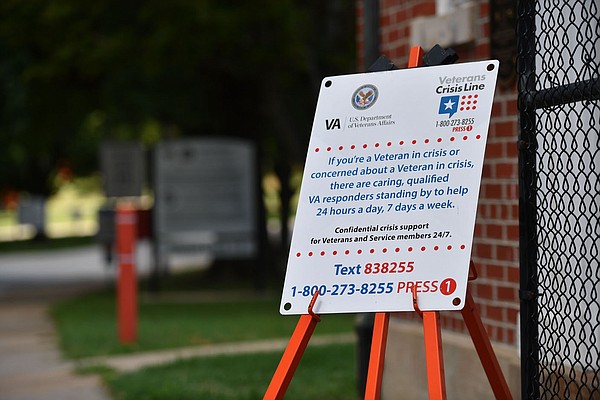 Suicides down in the United States and Arkansas; one is too many, says the psychologist
"Here's the thing: either you lost someone out of desperation, or you're going to lose them," said Fayetteville musician Willi Carlisle.
Medical professionals expected suicide rates to increase during the isolation of the covid-19 pandemic. But the number of suicide deaths nationwide has seen only a slight increase and is now falling, according to figures released last month by the federal Centers for Disease Control and Prevention.
The Arkansas Department of Health this month shared similar reports for the state and northwest Arkansas.
"But even one suicide is too much," said Reba Glidewell, psychologist and deputy chief of staff for mental health at the Ozarks Veterans Health Care System. "Anything beyond is too much."
The impact of a suicide extends from family to friends to co-workers and more, said Linda Cromer, director of crisis and forensic services for the Northwest region at Ozark Guidance, a subsidiary of Arisa Health.
"It's not calculable, the loss that occurs when someone ends their life," Carlisle wrote in an Aug. 11 email while on his way to a show in Phoenix.
Carlisle said he was passionate about suicide prevention because he had been on that precipice before.
"Suicide always seemed like an unavoidable consideration because I had no plan for myself and didn't love myself," he wrote in a text message. "At a time of profound humiliation and loss of family, I (wrongly) thought the two options were clear: to bear the brunt of a loss of public face, to be ostracized forever, to be a liability to my friends and 'well-disposed' of by the family I have chosen, or end my life. I tried the easier option.
"I'm still here, though. I called the suicide hotline the next day," Carlisle continued. "By the time Ben, an anonymous guy on the other end of the line, finished talking with me for 45 minutes, I felt a lot better."
PANDEMIC EFFECT
Rebecca Brubaker, executive director of the Arkansas Crisis Center, noted that recent callers to the suicide hotline suffered from all types of anxiety — losing a job or losing a marriage. , she said. Their family members might have covid or might have died of covid, she continued. They are afraid of covid. They are afraid to go on a ventilator.
"And they live alone and are isolated with their fear," she said.
Cromer agreed.
"There are multiple risk factors, but there is no single cause of suicide," Cromer said. "Most often it's additional stressors. And there's definitely been an increase in stressors after the pandemic started. Even getting back to normal routine can be a stressor."
Those contemplating suicide may also be plagued by drug or alcohol addiction.
"Part of addiction is desperation," Carlisle said.
A February report from the centers shows suicide rates fell nationwide in 2020, continuing a decline that began in 2019, said Julie Eschelbach, the centers' health communications specialist. Unconfirmed data from 2021, however, shows an increase in suicide deaths in the United States to 48,031, from 45,979 deaths in 2020, Eschelbach said.
Arkansas recorded 619 suicides in 2021, compared to 583 in 2020, according to Danyelle McNeill, spokeswoman for the Arkansas Department of Health.
TELEPHONE HELP
On July 16, the Federal Administration of Substance Abuse and Mental Health Services changed its toll-free crisis hotline number to 988, also toll-free.
"Like 911, it's easy to remember wherever you are," Brubaker said.
The Arkansas Crisis Center has seen the effects of the pandemic on mental health. The Rogers-based center has a 24-hour hotline to assess and help people considering suicide.
The number of calls increased 730%, from 296 in February 2020, the last month before schools and businesses in Arkansas closed due to the pandemic, to 1,919 in February 2022, he said. she stated.
The center recorded 13,379 calls this year until the end of June. It saw its first post-pandemic drop in calls in June with 1,976, down from 2,476 in May.
The Crisis Center was founded in 1985 to take calls from Northwestern Arkansas residents at risk of suicide. For many years, the center also received calls from Arkansans who called the federal government's National Suicide Prevention Lifeline, the predecessor to 988.
Call specialists respond 24 hours a day, 7 days a week, with 15 volunteers and two staff members, Brubaker said. Working four to six hour shifts, a call specialist will take approximately 15 calls.
Before volunteers start managing the crisis line, they receive 40 hours of intensive training, but are not certified licensed therapists, Brubaker said.
VETERAN SUICIDES
The Veterans Administration has operated its own hotline for years. And callers to the new 988 number will first be directed to "Press 1" if they are veterans, Glidewell said. Those who do will be transferred to the Veterans Administration line.
Nationally, veterans accounted for 6,261 suicides in 2019, or 13% of all adult suicides that year, according to the annual National Veteran Suicide Prevention Report released September 2021 by the United States Administration. Veterans.
The report lists 5,989 suicides among veterans in 2001, representing 20% ​​of suicides among all adults.
Glidewell noted that 60% to 70% of these veterans are not enrolled in Veterans Administration mental health programs, which locally can range from inpatient intensive care to targeted rehabilitation to counseling sessions. group therapy, she said.
The local veterans' health system was unable to provide data on local suicides among veterans.
"Every veteran suicide is one suicide too many," Sen. John Boozman said in a statement from his office on Thursday. "Expanding opportunities for men and women who have served in uniform to connect with VA services is critical to providing the resources and care they deserve."
In 2020, President Biden signed into law improving mental health care for veterans. Boozman authored a provision of the law to create a Veterans Administration grant program to support nonprofit agencies and organizations serving veterans.
SILENCE OR SHARING
The different organizations that deal with mental health issues vary on whether publicity and open discussion helps or hurts.
There is widespread stigma associated with suicide, and as a result many people are afraid to talk about it, Glidewell said.
"It's like you're less of a person," she said.
Police departments, schools and even many media handle suicides with kid gloves. The Democrat-Gazette does not report suicides unless it is the suicide of a public figure or a suicide committed in a public place.
Brubaker said all deaths should be covered equally, with organizations having a consistent policy.
"Ignoring it didn't work out so well," she said. "We absolutely want to respect our patients, but we must do our best to highlight the risks of suicide. We must talk about prevention and strategies."
Cromer said it was important to talk about resources, raise awareness of risk factors and give people a toolkit to deal with situations where suicide might be involved.
"If we don't talk about what's painful, we reinforce the stigma," she said.
Schools in northwest Arkansas will call on counselors from Ozark Guidance in the event of student deaths, said Katie Jenkins, counselor at Shaw Elementary School in Springdale. But school administrators consider memorials for all deaths on a case-by-case basis, Jenkins said.
"There's a fine line between glorifying a suicide and remembering a friend," she said.
In an effort to prevent the "contagion of suicide," school officials will review how the death is likely to affect other students, according to state health department protocols. They will determine which students are most likely to be affected so that they can receive services to prevent another suicide.
Suicidal contagion is exposure to suicide or suicidal behavior, according to the federal Department of Health and Human Services. Both direct and indirect exposure to suicidal behavior have been shown to precede an increase in suicidal behavior in people at risk for suicide, particularly in adolescents and young adults.
In May 1990, three Sheridan students committed suicide in two days – the first in front of his history class, according to a report from the time by the Associated Press. Another student took his own life in March that year and three other county residents – aged 22, 40 and 82 – have taken their own lives since January 23.
Linda Oakley, a counselor at Central Junior High in Springdale, said suicide education was necessary for the city's diverse cultures. Each culture views mental health differently, she said.
"What I hope is that public and interpersonal knowledge grow massively in this regard, that we start talking about the epidemic of loneliness and addiction and that we create public spaces to work on solving it" , Carlisle said. "Wrapping it in mystery is not helpful."